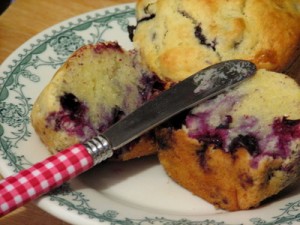 Blueberry muffins are ever popular. Other recipes include banana raisin, apple, cranberry and many other variations.
Muffins may seem intimidating, but following a few simple techniques will help you create home baked success. Baking them at home can help you save money, eat healthier because you control the ingredients, and provide a chance to experiment and tweak recipes to suit your situation.
And making your own muffins will add baking skills to your repertoire, and you get to eat the flavorful results.
Simple tips for baking muffins:
In addition to the Quick Bread Tips in Part 1:
Make sure to mix the dry ingredients separately from the wet, then combine them at the end of mixing..
Use a spoon or spatula to fold wet and dry together, about 10 to 12 strokes. Better to have a few bits of flour showing than to mix too much and make your muffins tough.
Select a muffin baking dish or tin with the right number of wells, or as close as possible. A 12-well version is common. You can use two pans if needed, side by side in the oven.
Adjust oven rack to the center position to bake muffins
Use paper muffin cups if you wish, or baking spray, or lightly oil the pan using a pastry brush to get into the corners. Any of these methods will make it easy to remove the baked muffins.
In the next part, we offer a handy and simple muffin recipe...




by