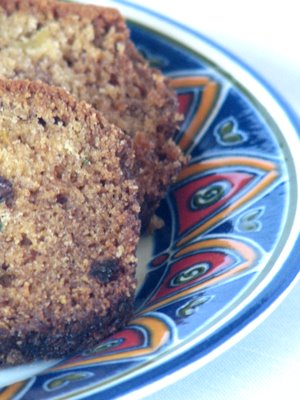 Time to get out your mixing bowls and loaf baking pans. Assemble your ingredients and roll up your sleeves. You are not far away from that wonderful home baking aroma, and the tasty results of your work.
Pineapple Raisin Quick Bread
A simple recipe with popular ingredients. This bread is flavorful for breakfast, snacks or lunches.
2 c. all-purpose flour
2 t. baking powder
1/2 t. baking soda
1/2 t. salt
1/2 c. firmly packed brown sugar
1 egg, well beaten
1 c. sour cream
1 c. crushed pineapple, including juice
1 c. raisins
1/3 c. melted shortening
1/2 c. chopped walnuts (optional)
Preheat oven to 400 degrees. Mix flour, baking powder, soda, salt and sugar. In a separate bowl, mix egg, sour cream, pineapple, raisins and shortening. Add nuts. Add wet ingredients to dry and stir until just mixed.
Spoon into greased and floured 9x5x3 inch loaf pan. Bake for 30-35 minutes, until lightly browned and tester comes out clean. After 10 minutes, remove from pan and cool on rack before slicing.
Basic quick bread recipes are easy to vary, changing the combination of nuts and fruits to suit your tastes. For example, remove the raisins and use chopped dates, dried cranberries or cherries, or chopped dried apricots in their place. Test to come up with your own favorites.
Coming next, how to serve your quick breads...




by