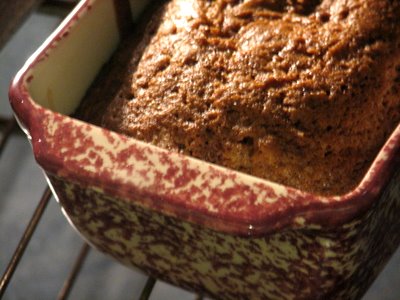 Quick breads are an easy introduction to the world of home baking. Homemade breads are delicious and economical. These breads usually include fruit or nuts. They are especially good to pack in lunches, or enjoy with a hot cup of tea or coffee, or a cold glass of milk for an afternoon snack.
By definition, a quick bread rises through the chemistry of ingredients like baking powder or soda (or a combination) - and their interaction with acidic ingredients like milk (contains lactic acid) - instead of yeast. We'll get to yeast breads later in this series.
You do not want the gluten in the flour to develop in these products, and this is why limited mixing is important, once the dry and wet ingredients come together.
Basic tips for easy quick bread baking:
Check the date on your baking soda and make sure you are using a product that is within date. Old soda loses its ability to make your bread rise.
Mix the dry and wet ingredients separately, combining only at the end of mixing.
Fold wet and dry together with a spoon or spatula, 10 to 12 strokes. Bits of flour are better than over mixing, which will make your bread tough and lopsided.
Select a bread or loaf baking dish that is the right size, as called for in the recipe. Two common standard sizes are 9 by 5 by 3 inches deep, and 8 1/2 by 4 by 3 inches deep. This ovenware is available in ceramic, glass or metal versions.
Move the rack to the center before you turn your oven on.
Spray your baking dish with a product designed for baking, or use a pastry brush to oil the pan lightly. Be sure to get into the corners to make bread removal easy.
If you've got the tips, a recipe follows in the next post...




by