Why I won't have a Downton Abbey dinnerware set, but you might want to.
I like mixing my collection of vintage dinnerware and glassware, to create different table settings. That doesn't mean I don't use classic china dishes, just that my party style is eclectic.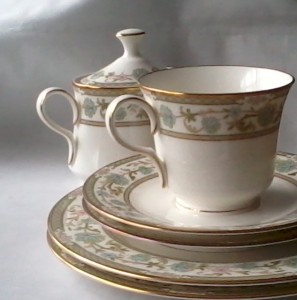 One important element of an authentic Downton Abbey table is that all the china match. Each place setting would have all the right pieces to serve any menu, literally from soup bowls to nut dishes.
And the ware would be made from bone china, not just ordinary porcelain.
Any glassware, flatware and other pieces would be in patterns and materials that complement the dishes: crystal, silver, gold and linen.
While I can appreciate the beauty of these fancy dishes, when it comes to what I own and use, it'd go another way.
That's why I won't have a set that's true to the Downton Abbey era.
Planning for the Downton Abbey Look
If you want to create a table setting for a party or special event, using the Downton look as your theme, here are some tips to get you started:
Check the "traditional" box in your searches. Some fine china patterns in this category have sleek shapes, others are more ornate, but they all are classic and elegant. Bone china, embossed details, intricate shapes, and gold or platinum rims, are all elements used in traditional dinnerware designs that can help you create this style.
Two of the dinnerware patterns that appear on the Downton Abbey series – Stafford White (at the Abbey) and Blue Italian (at Crawley House), both by Spode – can be starting points if you're beginning your collection.
The Stafford White pattern is the newest of these, as it came onto the market around 1990. The "newer" version of Blue Italian dates from the early 1960s. Blue and white transferware like this, and the Spode company itself, have far older histories, in harmony with the 1912 to 1920s Downton era.
Another recent dinnerware design, Sakura by Noritake, also has the right traditional look, though it is a more modern shape. The pattern dates from the late 1960s through the 1970s.  It's the kind of dinnerware the present-day residents of the Abbey might use.
Consider the pieces you'll need to serve your menu and decorate your table. You will want to choose a pattern that is made in lots of piece types, so that you can set a full table of matching place settings and serving pieces for lots of different menus.
I see pieces with the right "antique look" in my travels, and they get snapped up quickly, probably by people with a permanent shopping list that has Downton Abbey party among the most wanted items.
That list isn't limited to dinnerware, but includes glassware, table linens, napkin rings, candle sticks and any other items that can be used to create the right look on a tea table, buffet or centerpiece.
Collect samples to build your look. I suggest paint chips for color samples. For design ideas, try photos of candidate dinnerware, glassware and accessories from the web or magazines, single pieces that you buy to consider, and pieces from your existing collection.
A test arrangement on your buffet can help your ideas blossom, as you experiment and decide what to purchase in quantity for your complete set. It might take time to build your ideal, especially if you're searching in secondary marketplaces, but the results will be worth it if Downton is your style.
For example, a wonderful flatware pattern called Vintage, by International Silver, is lavish and beautiful. It dates from the early 1900s. The pieces have an antique look and feel, with detailed grapes and vines on the fronts and backs of the pieces, even onto the bowl. Some teaspoons and salad forks in this pattern will contribute to your special table setting.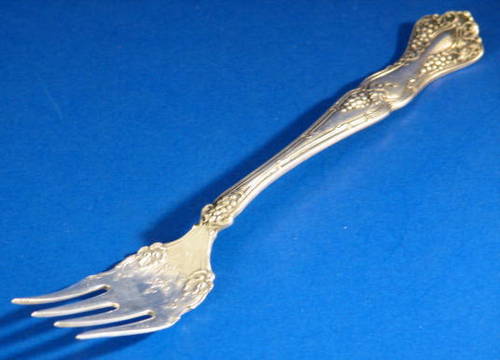 On to the Party
While I enjoy the thrill of the hunt, finding those special pieces, and using my cherished dinnerware, a full matched set is not on my list. Even so, it's possible to create a charming style for a viewing party, when the time comes.
I'll be using my Summer Chintz by Johnson Brothers, along with silverplate teaspoons and dessert forks, a fancy china 3-tier serving tray, and my best vintage white table cloth and napkins. Not all authentic to the time, but my table setting will convey the special look and feel to make my guests comfortable, as we enjoy our tea, TV, and the next chapter of the Downton Abbey saga.




by