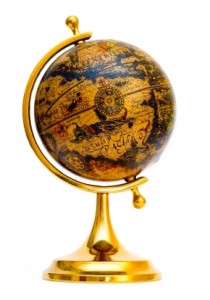 Beautiful old maps - reproduced for home decorating on wallpaper, fabrics and other accessories - can bring richness to your dining room as well.
What dinnerware can you select to create your table setting in a dining room based on an antique maps theme, without overpowering the look?
We have several avenues to suggest:
Use white china with a shape and style that evokes the Old World look. Terms like antique and baroque are inspired by styles that reach back to the 1600s and 1700s, when many of the source maps were originally produced. Antique White by Mikasa and Baroque by Jay are two styles we found.
Select colors that coordinate with the specific maps you are using in your room. For more inspiration, remember that the explorers were looking for spices from the Far East, gold and silver from the Americas. Colors with names like cayenne, turmeric, paprika, sage or sandalwood will harmonize with many antique map items.
Accent your table setting with a few pieces that feature reproduced antique maps. For example, the Passion for Maps line by Mottahedeh includes a number of pieces that are produced under license from museum map collections.
Include fabric table linens, as well as gold-tone napkin rings and candelabras to complete details of the look.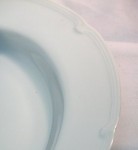 As you build your collection, take along some photos of the pieces you have. Or, collect a series of paint chips, to help you with the color selections of the dinnerware, as well as for choosing accessories like linens and napkin rings.
Images and color swatches will help you focus on your plan, whether shopping in person or online, but remember that the quality of room light, and the settings on your computer monitor, can make exact color matches difficult.
An antique map theme can inspire your table setting ideas. Your modern-day guests will enjoy a luxurious party when you incorporate timeless dinnerware as part of your theme.
About the thumbnail photo: Classic White by Block Spal




by