Pfaltzgraff dinnerware is one of the most popular and perennially-loved product lines on the market. Spring, summer, winter or fall, there are patterns to like for table setting style.
I know I love my Mountain Shadow, a simple and contemporary (although discontinued) pattern.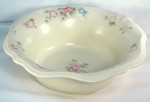 There are lots of choices in the Pfaltzgraff world. Some of the patterns span a long timeline, and include both vintage and new examples.
The piece types are wide ranging. Most patterns include the complete set of standard plates, bowls, cups, saucers and mugs. Add specialty items like buffet plates, ice cream cups and serving pieces in all shapes and sizes. That doesn't include the casseroles, au gratin dishes, ramekins and other bakeware pieces.
But there's more! Other pieces include flatware, metalware (like teapots, canisters, storage containers, in addition to their ceramic versions), glassware (goblets, tumblers, juice glasses and decanters), and linens (table cloths, runners and napkins) to fill out many of the accessories for the most popular patterns.
Some of the patterns span the timeline, and include both vintage and new pieces.
Patterns like Yorktown, Tea Rose, Village, Heritage and Folk Art are just a few of the designs that have been made for decades. No need to bring them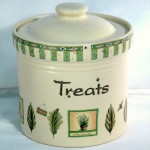 back, when they were not discontinued in the first place.
Seasonal patterns like Winterberry, Christmas Heritage, Nordic Christmas and Penguin Skate feature specialty piece types, too, and are the kind of dishes that hostesses bring out year after year for special occasions.
New piece types have been introduced over the years, so your collection can grow quite large. You'll be able to set a table for lots of different events and menus, and match as many pieces as you wish, in the Pfaltzgraff product line.
This china was made in the USA for many years. Starting in the early 1990s, production moved to Asia.
Older versions of some Pfaltzgraff patterns can show differences in background color, and character of the ceramics. This works fine in a casual setting, when the variations give texture to your t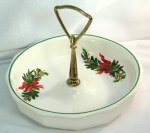 able setting.
If you're sticking to a strict, traditional table setting theme, and are looking for pieces to blend in with your existing set (or perhaps mom's or grandma's set), the secondary marketplaces are good for finding the best color match.
I've written about Pfaltzgraff dishes over the years, including:
Tips to Complete Your Pfaltzgraff Dinnerware Set
Vintage Piggin Wall Pocket by Pfaltzgraff
Plymouth Pattern Thanksgiving Dinnerware by Pfaltzgraff
Using Pfaltzgraff China for Traditional Table Setting
Pfaltzgraff dinnerware continues on as an American standard.