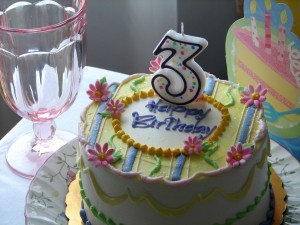 Happy Birthday again for my blog, Diary of a Dishie!
To celebrate, we've been eating birthday cake for nearly a week. (Well, the blog hasn't been, just waiting for me to take the photos and post…)
Birthday parties are a great time to get out your most charming dishes, and to mix and match your colorful china. The table setting for birthday parties can be anything you want it to be.
Charming dishes work for afternoon tea, too, and you set the date, the occasion or theme.
You can set a color scheme around any element you with to be the main one, such as a favorite color, the dishes, the cake, or another motif. Then select the other components to coordinate.
I chose my Summer Chintz china by Johnson Brothers. I like to use it, and it is a sweet, floral pattern on a white background. I especially like the way the colors of the dinnerware goes with the colors on the cake.
If you're looking to bring out an unusual color, look for napkins, candles or other birthday party accessories to pull up these colors. Silver and gold elements from the china, or tableware items like flatware and candle sticks will give some bling to your table setting as well.
For the glassware, I selected rose-colored iced tea goblets in the Arlington pattern by Mosser. I like the generous size for a big birthday toast. We like sparking juice, non-alcoholic, by Julian Brothers. This product is made in Michigan. The red grape or white grape flavors go with a lot of foods, and everyone at the party can enjoy this bubbly drink.
And so, here's to another year of Diary of a Dishie. When the "back ordered gifts" arrive, I'll bring them out for everyone to see here.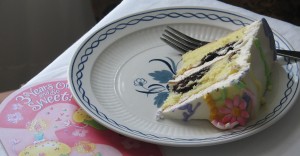 Slice of the Diary of a Dishie birthday cake, on a vintage ironstone plate, Baltic pattern by Adams.




by