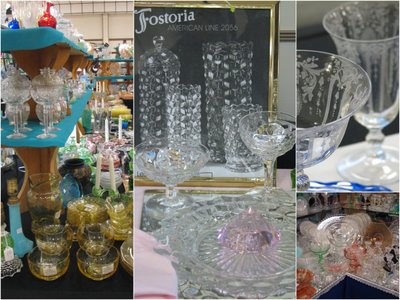 Many of my dishie friends love glass as well. Then the challenge comes up: identifying glass. Most glass is not marked.
Learning the makers and patterns takes time and experience. There are many wonderful books, but they will only get you part of the way.
We are fortunate here to have our local Great Lakes Depression Glass Club. They organize an excellent show and sale each spring.
As usual, this year's show was great for continuing education and acquisition of glass and information. More than 20 dealers brought their wares as well, so there is lots to see and select.
And, it was encouraging to me to see 30-somethings leaving with their purchases. Depression glass is too pretty to go into decline. It works well with many table setting themes, including cottage, floral and shabby chic as well settings based on particular colors.
There is some very fine American manufacturing represented among this glass from makers long gone, such as Fostoria, Tiffin, Morgantown, Heisey, Cambridge and many others.
"Depression glass" refers to the inexpensive glass produced in the 1930s that was sold, or given away with another purchase such as movie tickets. The term "Depression era glass" is correctly used for glass made in the USA from the 1920s to the middle-1940s. Some of the same (or very similar) patterns were made later, and these terms are sometimes used incorrectly to describe glass made in later decades.
The glass club educational displays included a comparison of different look-alike patterns. The glassware was chosen to illustrate the difference between, for example, Fostoria's American pattern and Whitehall by Indiana Glass. This is an uncommon opportunity to have pieces of both, correctly identified, that you could see, touch and learn from.
Experienced club members are also available to help you identify your pieces. No extra charge, just bring your glass along.
There was also a display of contest winners of the club's table setting competition, featuring Depression glass. (More about this later.)
I may have to go back tomorrow. I saw some Heisey plates that might have my name on them...
The Great Lakes Depression Glass Club show continues tomorrow, April 25, 2010, from 11am to 4pm. See the website link above for more information about the show and club. The next show will be in May 2011.
Check out the "Tables" page on the club site to get some great mix and match table setting ideas that include Depression glass and vintage china.




by