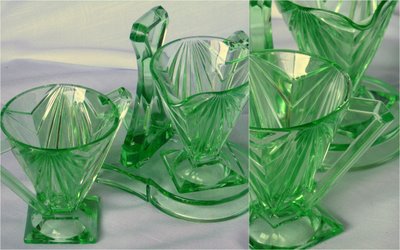 The Depression glass pattern called Pyramid was produced by Indiana Glass in Dunkirk, Ind. From 1926 to 1932, in various colors, including green. Most are serving pieces, such as this creamer and sugar on a carrying stand.
I bought this set around 1980 at the Shipshewana flea market as a gift for my mother. She was collecting Depression glass at that time. (Those were the days, more like a giant garage sale with lots of people clearing out from homes and barns, and selling out of the backs of cars and pick-up trucks.)
In a wave of recent downsizing, I got it back.
The Art Deco, 1930s styling of this pattern is very sleek. And if you are interested in finding authentic Depression glass, take note of this color green. While variations between manufacturers are evident, this color will give you a good clue when you are hunting. Not too yellow, not too blue. Not too dark or too saturated.
I didn't see any Pyramid at the recent Great Lakes Depression Glass Club Show, though there were plenty of tempting pieces.
Pyramid can go with many modern or contemporary table settings. Glass can light up a table set with white dinnerware, for example. And good design is always in style.




by