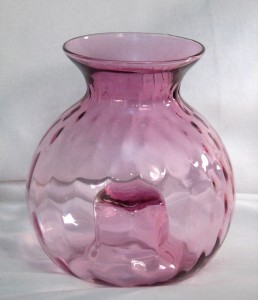 Cranberry glass has a lively berry-red color that has fascinated collectors since Victorian times.
This color remains popular today, due to its distinctive beauty and clarity.
The cranberry I'm looking for is a cheerful claret or burgundy red, as compared to rich ruby red glassware, though they both have gold in common. It takes a tiny bit of gold to make this beautiful glass.
It's tough to find glassware in the right condition in the secondary marketplace, because the fine glass pieces are often delicate and don't hold up to rough handling.
The cranberry cookware was put to work in daily use and many times shows some wear.
Cranberry was a favorite of elegant glass makers, as it was for those making  art glass and collectible glassware pieces as well. Pilgrim in West Virginia was particularly noted for this glass.
On the elegant glass side of the glassware spectrum, the vase in the photo (maker not yet identified) has a built in frog inside, pushing up from the bottom. This is meant to help with arranging flowers and holding them in place.
The vase has a dappled surface and the glass is thin and dainty. This is the type of piece that is mouth blown.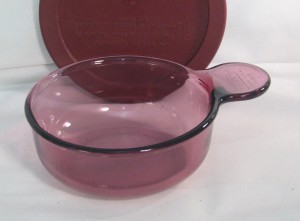 Contrast that with the service-ready Vision Grab-It bowl in cranberry glass by Corning. The glass is thick, as this bowl is intended to be used as cookware and bakeware.
I've seen other pieces in the Vision line in this type of glass, including large covered roasters, casseroles and skillets.
This cookware dates from the 1970s, and people still seek it so they can use it, especially the all-glass pieces, as compared to those that have a partial non-stick finish.
All glass in the cranberry color is consistently on my scouting list. It's easy to pick out this bold, vibrant cranberry color on a shelf full of glass. It's beautiful to use and enjoy!




by