One of our favorite holiday treats is cranberries served in vintage Tiara glass. A footed salad bowl like this is a good size, because it holds the right amount!
And it's stylish and well-made. I've played around with different cranberry recipes, but the dish I like to use to show it off on the dinner table has not changed.
If you're serving more guests, several smaller bowls placed in multiple places add shine, and the bright red sauce makes your table setting just that much more festive.
The Ponderosa Pine pattern works so well to add to the themes that we enjoy for winter holidays. That's the time we crave this tart sauce around here. (I buy bags of fresh berries and freeze them to last until spring, so we can have sauce when we want it.)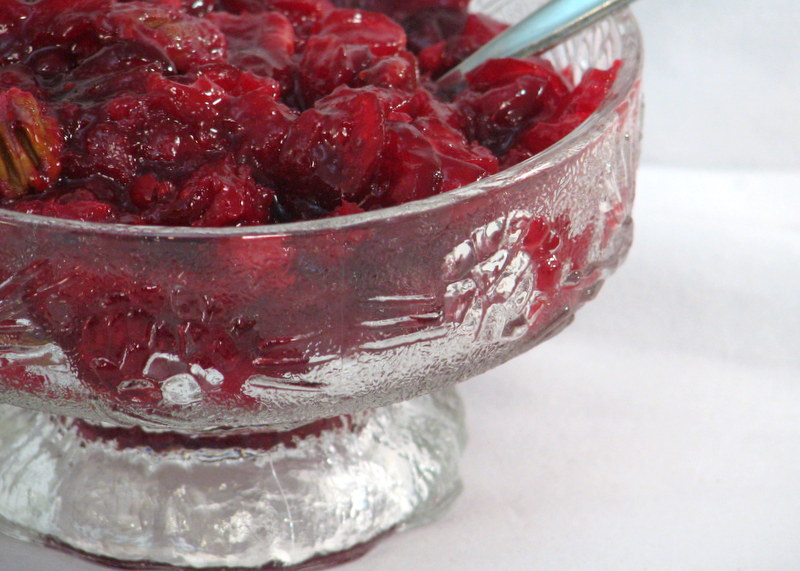 This company sold glassware for the dining table and accessories through home parties, the model used by businesses like Tupperware and Mary Kay.
Many of their products were made by Indiana (as a retail offshoot of theirs). Some of the molds came from other companies, and in later years the glass was made by others as well.
Names that figure into the history of this glassware include Lancaster Colony, Fostoria, Fenton, Smith and Home Interiors. When looking online, this may help you find what you are looking for.
Dinnerware Featuring a Pine Pattern
The stylized pine motif with needles and cones is molded on the outside of the pieces. This is quality glassware that was made in the USA in the years between 1970 and 1998.
Ponderosa Pine was made in both clear and green. You can find several piece types, including footed and flat goblets, mugs, footed salad bowls, flat serving platters, ice lip pitchers, tidbit dishes, carafes, dinner plates, luncheon plates, three-part relish servers, egg trays, and salt and pepper shakers.
I cannot say whether all these piece types were made in both colors. The green is not as common as the clear, and neither one is common.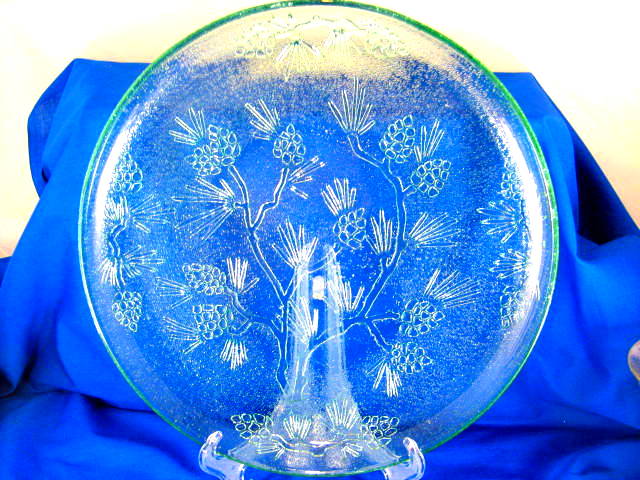 If you're looking to start a collection quickly, online sources are your best bet. On the ground, I haven't seen any of this design for a long time. (It's out there. I just have to check out more places.)
If you like estate sales, and stumble on a quantity, count yourself lucky!
As with any glassware, I recommend checking carefully for chips and cracks. Also, if a piece looks dull rather than shiny, it means it was not cleaned by hand. You can test this by getting a piece wet. If it looks clear, then it's dishwasher haze and the fog will return when the piece dries. Perfectly usable, just not as beautiful as it should be.
Cranberry Sauce Recipe
There are some good recipes on the berry bags from the store. Maybe you have a family favorite. Or you might like this one.
Ingredients
2 cups water
2 cups sugar
16 oz. fresh berries (about 4 cups)
4 teaspoons orange zest or half an orange, chopped
Place water and sugar in a large saucepan. Bring to a boil. Then turn down to simmer, and cook until slightly thickened, about 5 minutes.
Pick over and wash the berries. Remove any that are bruised or crushed.
Add them to the syrup. Simmer gently for about 5 minutes. Skim off the foam.
Fold in the orange. Chill at least 2 hours before serving. Can be made a day or two before. Store covered.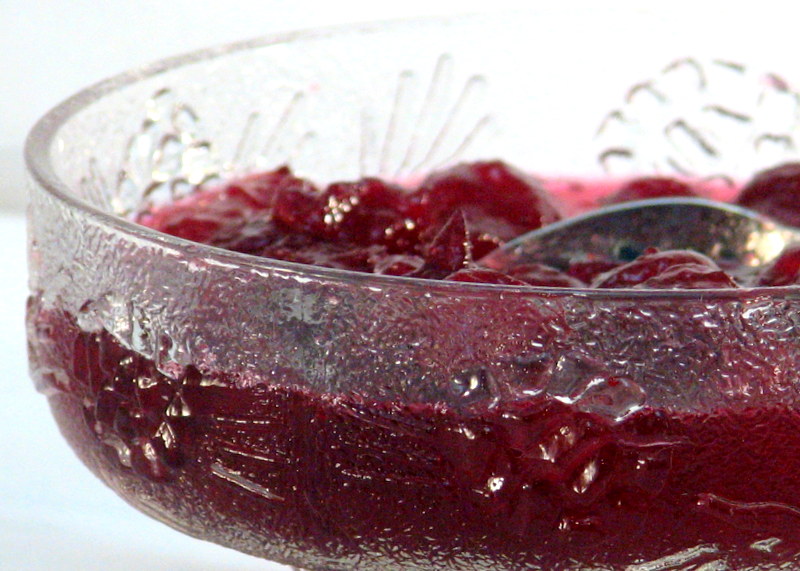 I like a whole berry sauce on the loose side. If you like the jellied ones, that works, too, to enjoy fresh berries in season.
While I might tweak my recipe (this one goes well with a few chopped walnuts or pecans thrown in, for example), my choice of a classic serving bowl is firmly established at our house!




by