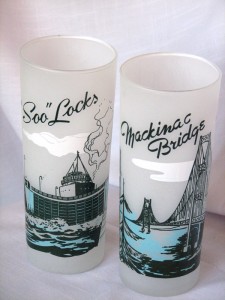 Someone asked me about cooler glasses, because she hadn't seen any. Summer is here, and it's time for lemonade, iced tea and other cold drinks.
So I got out my trusty Michigan glasses, and here they are. How cool are these! They just scream vintage.
Plain glasses dressed up with state scenes in the style of Gay Fad Studios of Ohio. There are other views besides the Soo Locks at Sault Ste. Marie, where ships travel between Lake Superior and Lake Huron and the other Great Lakes - in case you're not from Michigan, or a true troll and don't know - and the Mackinac Bridge which links the Lower and Upper Peninsulas (opened in 1957).
(If you're not from Michigan...a troll is someone who lives below the bridge...)
There is another glass for Hartwick Pines, a state park in the northern Lower Peninsula, which has some of the few old growth pine trees left in the state. Logging in the 1800s clear cut most of our northern woods.
And if you're looking for some lemonade to sip in your cooler glasses.
Homemade Lemonade
½ cup fresh lemon juice (2-4 lemons, depending on size and juiciness)
3 cups cold water
¼ c sugar
Roll the lemons on the counter top before cutting and reaming. This will help get all the juice. Add all ingredients to a pitcher and stir.
You can make this sweeter if you want, or add a lime for something a bit different.
Enjoy your lemonade and history lesson, all in one glass...




by