When I saw this teal green glass bon bon dish in the Whitehall pattern by Colony, I had to have it.
It was sitting on a glass shelf in a secondhand shop window, highlighted by the afternoon light coming through. I had already succumbed to weakness and bought the heart candy box for the BOX. (See it again further down.)
I was charmed by the colors.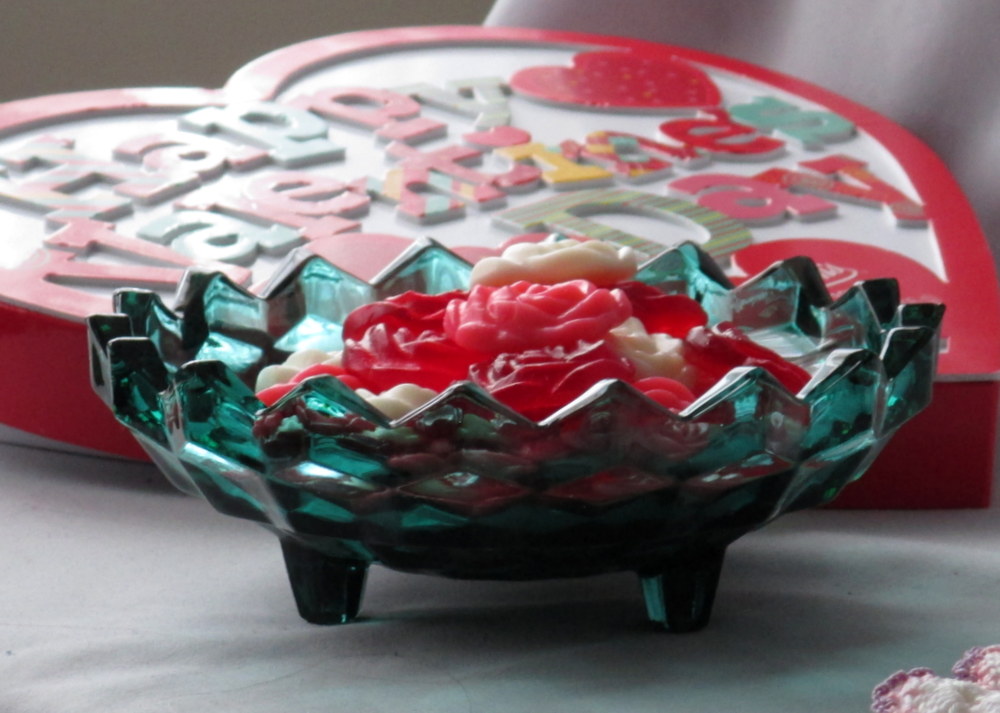 The pattern of this glass dish is sometimes called American Whitehall due to its similarity to the American pattern by Fostoria. This rich teal color screams the retro 70s era to me, so I'm sure that Colony is the maker.
In addition to the teal green, Colony made this pattern in many other colors, including aqua, avocado green, crystal clear, light blue, peach pink, Riviera blue (a bright, medium blue), cobalt blue and ruby. The covered candy dishes were very popular and are often seen in secondary marketplaces.
Bonbon dishes work well to serve all kinds of small treats – candies, nuts, mints. A collection of several of them (matching or not) could be used to serve individual cupcakes at a small gathering, or any other food that you pick up with your fingers.
Most likely I'll mix it with other angular shapes that harmonize with the stacked cube motif. I can see this also going with a variety of contrasting and complementary color scheme, either clear simple pieces, or bold color palettes.
Valentine's Day is just the beginning of this dish's life in my table settings.
More Valentine's Dinnerware Ideas
My dish cabinet holds more possibilities for a Valentine's Day theme. Here are just a few of them: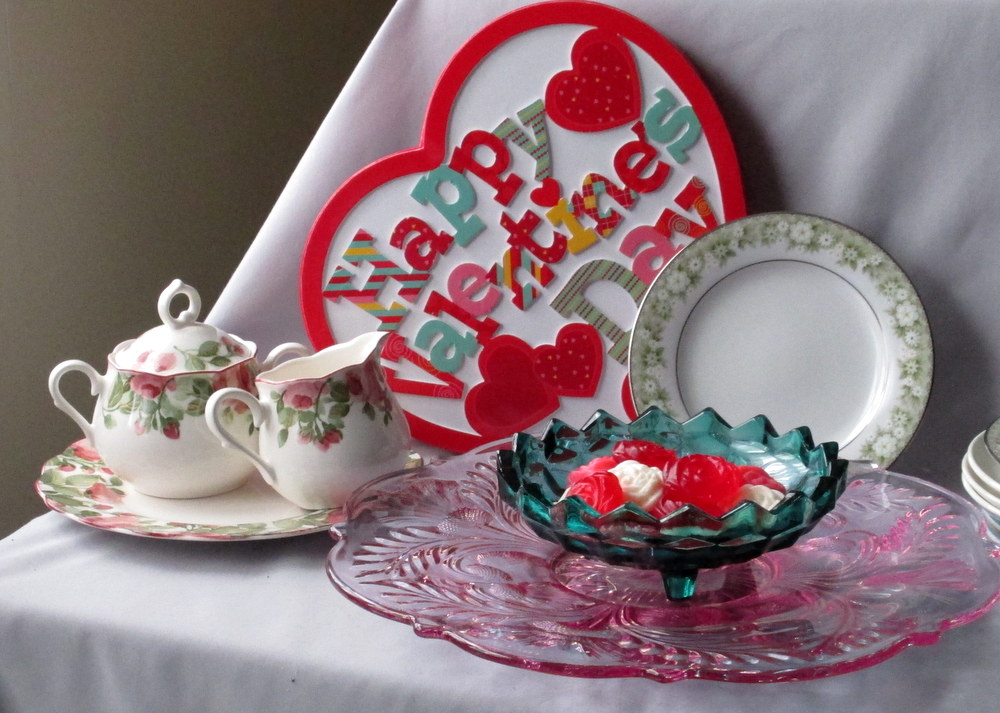 From left, creamer, sugar and salad plate in the Precious pattern by Nikko. Heart candy box by Whitman's, small dessert or bread plate in the Princeton pattern by Noritake. Whitehall bonbon dish by Colony. Gummi roses by Brach's.  Footed glass cake plate in rose pink, Inverted Thistle pattern by Mosser Glass.
Old and new dinnerware, glassware and related items can mix and match. Let the inspiration of any eye candy that you see spark your creativity, and you're bound to come up with some sweet combinations!




by