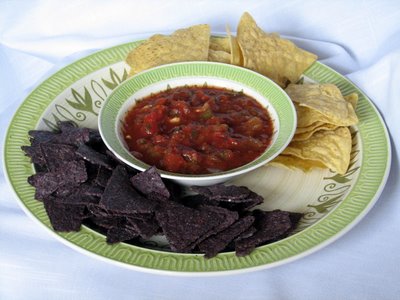 Cinco de Mayo (May 5) is only a few days away, and it's time to get ready for your parties or special events to celebrate.
There are plenty of ways to use your colorful dinnerware to help serve corn chips, salsa, tacos, guacamole or many, many other foods you might be eating to mark this special day in the history and culture of Mexico.
We repurposed a chop platter in the Mayan pattern by Harmony House to use as the large under plate, and a matching soup bowl to give some room for salsa.
Instant dish, ready for the table, or for the counter while you grill steaks, chicken, or mix up some other delights.
The colors and hand decorated motif on this dinnerware can mix with other bright colors (especially red, orange or green) to jazz up your Cinco de Mayo buffet.
Vintage china can easily work with many modern wares. Let your imagination run and enjoy your dishes!
About the photo: Vintage serving dishes in the Mayan pattern by Harmony House, which was a product line sold by Sears. Chips are blue corn by Garden of Eatin and restaurant style by On the Border. Salsa is Green Mountain Gringo.




by