There are always new ways to celebrate, and mix the best of vintage dishes with current holidays. When I saw this pairing of two Swedish Modern vintage glass pieces, an idea dawned.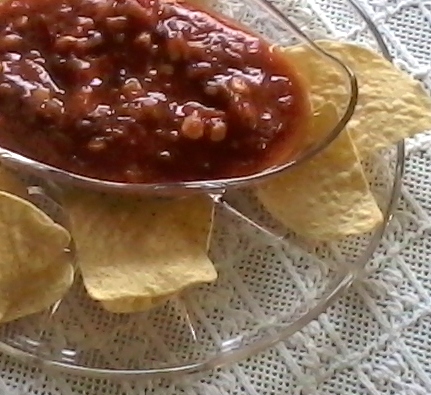 Let me serve chips and salsa for Cinco de Mayo in this vintage glassware, design inspired by a colder part of the world.
Swedish Modern is a style that's sleek and clean. It was very popular during the 1950s and 1960s, when this glassware was made. Like all things "modern" in style, this pattern has a classic appeal. It's timeless and relaxed. It will hold its own in your casual table settings.
Part of a larger Scandinavian design tradition, this pattern encompasses the minimalist and functional standards that continue to appeal to loyal fans.
Vintage Anchor Hocking
This pattern was made by Anchor Hocking, and there are a number of piece types available, including the platter to the chip and dip set I used here, and the relish dish. The bowl that actually goes with the chip set is, to my mind, a bit too small to use for a generous plate of salsa and chips for a group.
The original chip and dip set was probably intended for a dip to go with veggies, or potato chips. Everything about salsa should be bold, including the size of your scoop! Why not use the larger relish dish to your family and friends with a good salsa!
Swedish Modern came in several colors, the crystal clear and others, including amber (gold), hunter green, avocado green and aquamarine. There are also examples in clear glass with gold metallic trim.
Not to mention the Fire-King pieces in this pattern.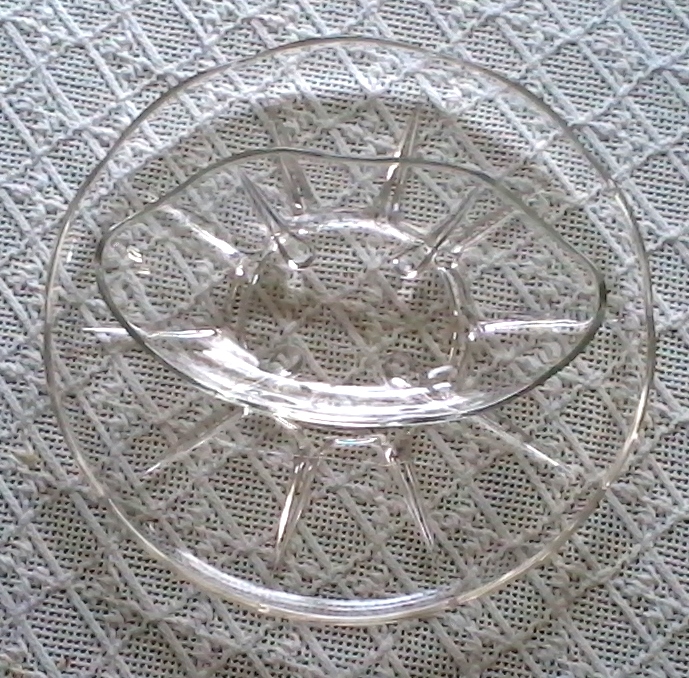 The clear glass items are by far the easiest to find. They tend to blend in with all the other clear pieces on a thrift store shelf. The possibilities get lost, along with the individual pieces. There was a lot of this glassware made.
Finding Vintage Glassware
Like any glassware, I presume there is a chip or crack until proved otherwise, so I examine my finds closely before making a final decision. Most of the time, I want perfect pieces. No need to risk getting cut on a sharp chip. There is enough of this glassware out there that I know I'll find my piece eventually.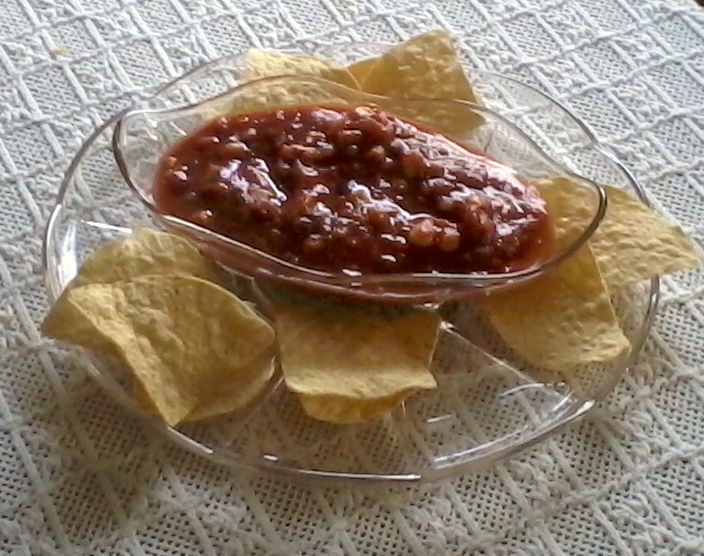 If you find a piece with a small chip, you can have it polished by someone who knows how and has the right tools. In my area, the local Depression glass society has contacts for this service.
I like the simple lines of Swedish Modern. The glass itself is quality. Just compare to some of the other pieces you'll see if you're not sure.
If you'd rather use china, check out this idea using vintage Franciscan dinnerware, and another using the Mayan pattern, made in Japan.
When it's time to celebrate a holiday, it's a lot of fun to look through my vintage china glassware and find a new idea to bring to the table, along with the food!




by