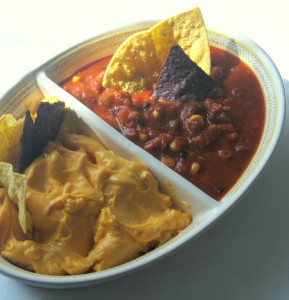 Cinco de Mayo is today, May 5, a time to party in Mexican style.
Casual dinnerware goes with the festive atmosphere of Cinco de Mayo parties, complementary to the lively colors and simple goodness of the salsa, tortillas, enchiladas, Margaritas and other foods you might be serving.
I selected a divided vegetable dish in the Hacienda Gold pattern by Franciscan for special use today. I put regular salsa in one side (actually the Black Bean and Roasted Corn Salsa by Pace), and cheese dip (Queso by Taco Bell) on the other.
Served with blue corn chips, and regular corn chips, salsa goes well for lots of parties!
These divided dishes were popular in the 1960s, into the 1970s, for serving two different vegetables. Modern dinnerware lines rely on the round vegetable bowls, or individual pasta bowls, that can be used creatively to bring side dishes to the buffet or dinner table.
Dinnerware tips for Cinco de Mayo and other casual parties:
Earthenware and rustic china patterns. These go with the easy, relaxed mood of a summer party.
Bold colors. Bright and saturated, they look great in bright light, and show off foods like fresh fruits, grilled meats and big salads.
Old World motifs. These patterns complement the informal dinnerware and rich colors of warm-weather entertaining.
No matter what dinnerware you choose, let it bring out the festive spirit in all your summer gatherings!




by