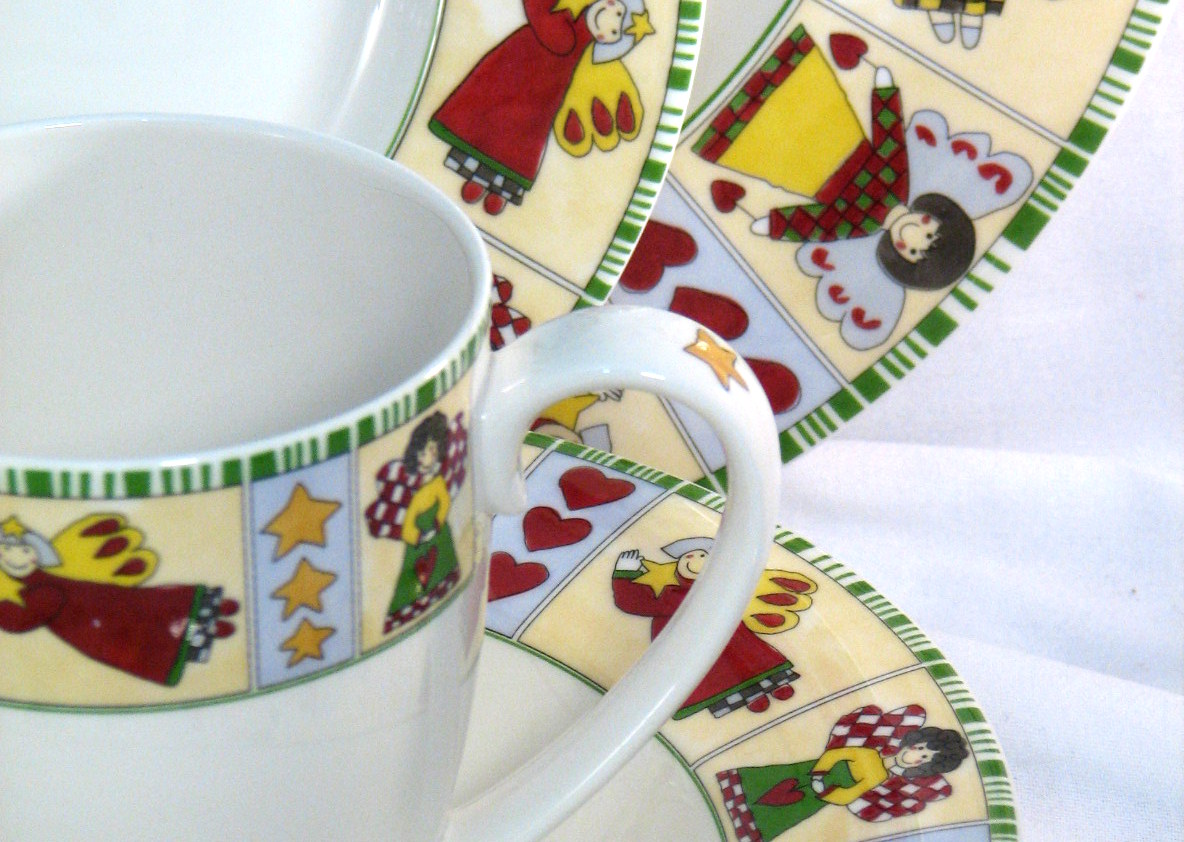 It's never too early to get your Christmas dinnerware ready.
Fall and winter holidays are coming fast. Have your preparations ready ahead of time, and you'll have more time to relax and enjoy the parties and celebrations.
For example, this Mikasa china dinnerware in the Angelica pattern is colorful, casual, and charming with its whimsical angels. It brings blue, yellow and gold into your Christmas color palette.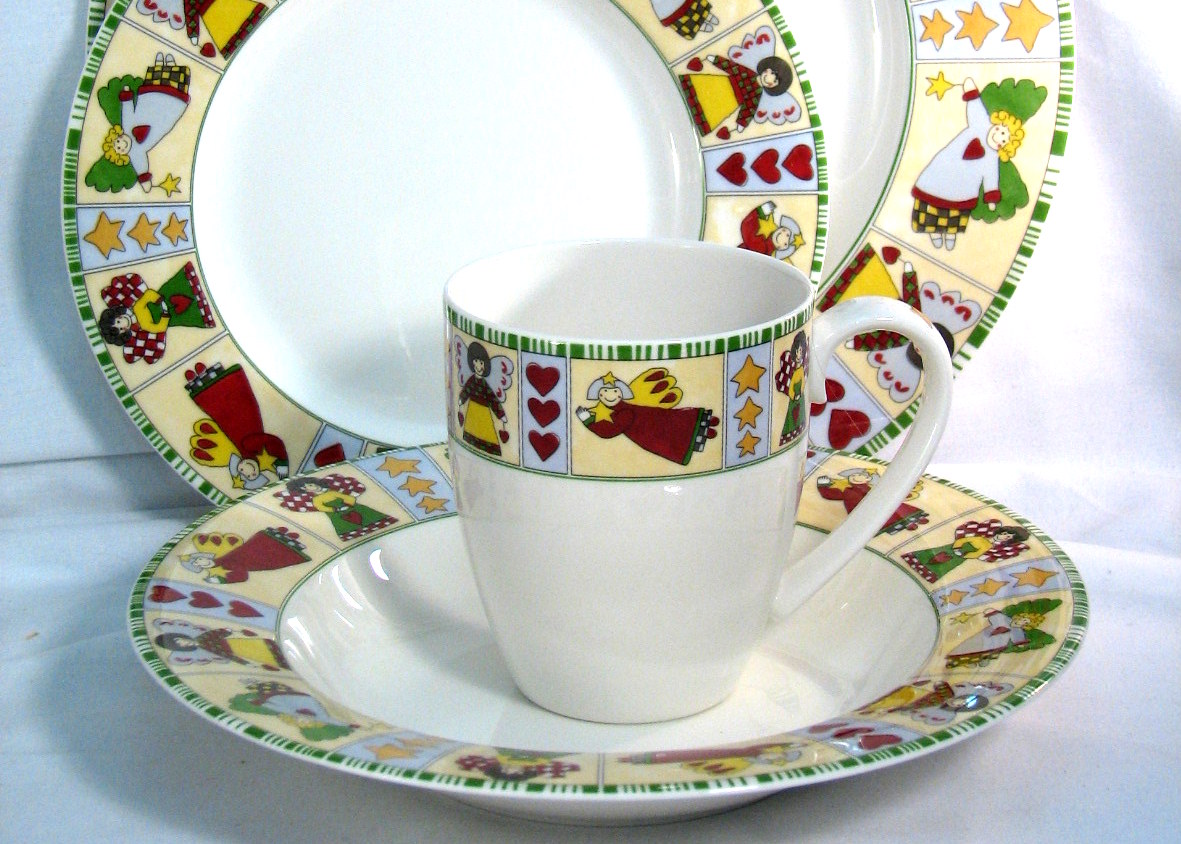 I keep a permanent shopping list, where I write down anything I need for entertaining, as well as gift ideas. This helps me remember, so I can watch for things I want to get when I'm out shopping.
There are many factors to consider when getting ready for holiday entertaining, including the number of guests, the mix of ages, the menu, and the venue. Also, will it be a sit-down dinner, a buffet, or other type of service.
If you're looking to update and add to your holiday dinnerware, here are three major areas to start with, to help guide your selection of new pieces or patterns.
Color Scheme and Theme
Will you use traditional red and green, all white, or another set of colors? Will you use solid colors, or create a set around a motif like snowmen, trees or Santas?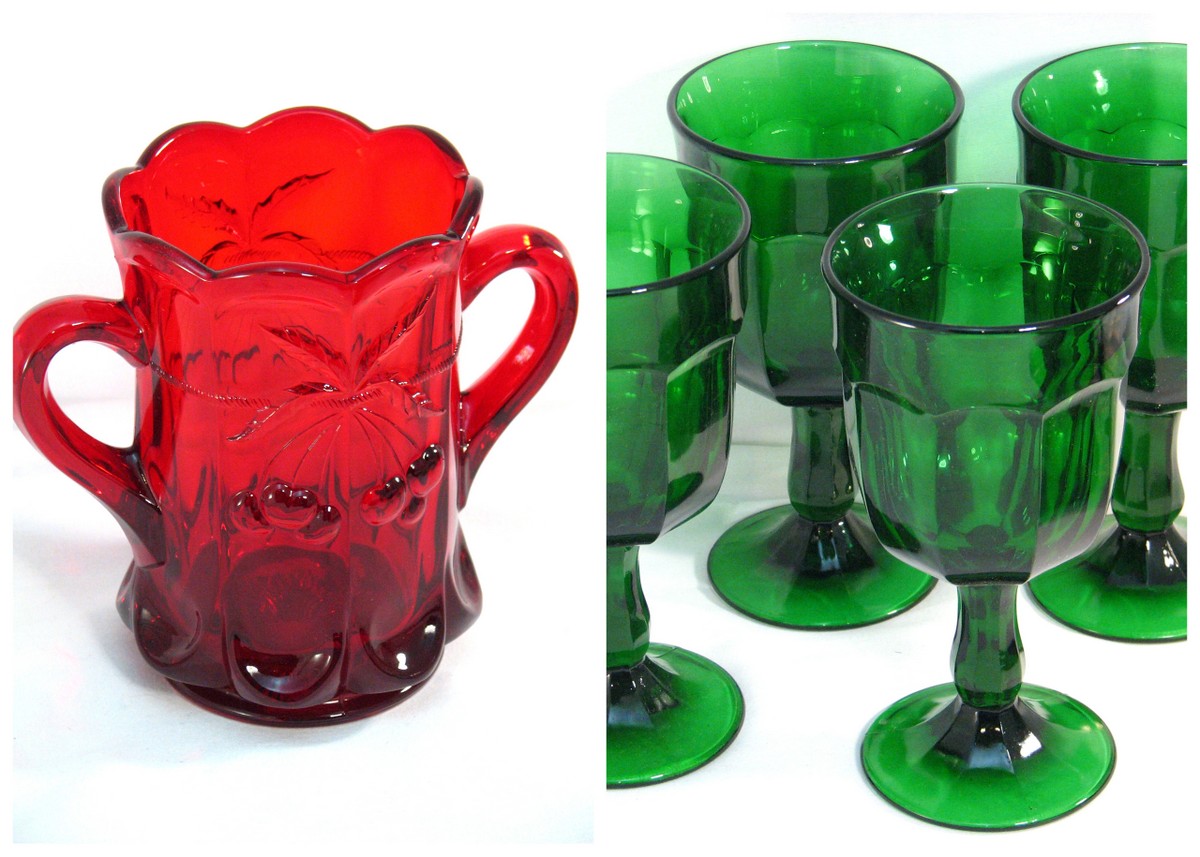 This vintage-style, new glassware by Mosser (Cherry Thumbprint spooner and Arlington goblets) bring bold traditional color and style.
Your choice of a theme can easily bring a color palette right along with it. Dinnerware featuring Santas are usually red and white. Evergreen trees are usually decorated in tones of green. Snowflakes can decorate clear glassware, or wares based on blue and white.
Your first choice helps to narrow down the rest of your options, and makes it easier to find what you're looking for.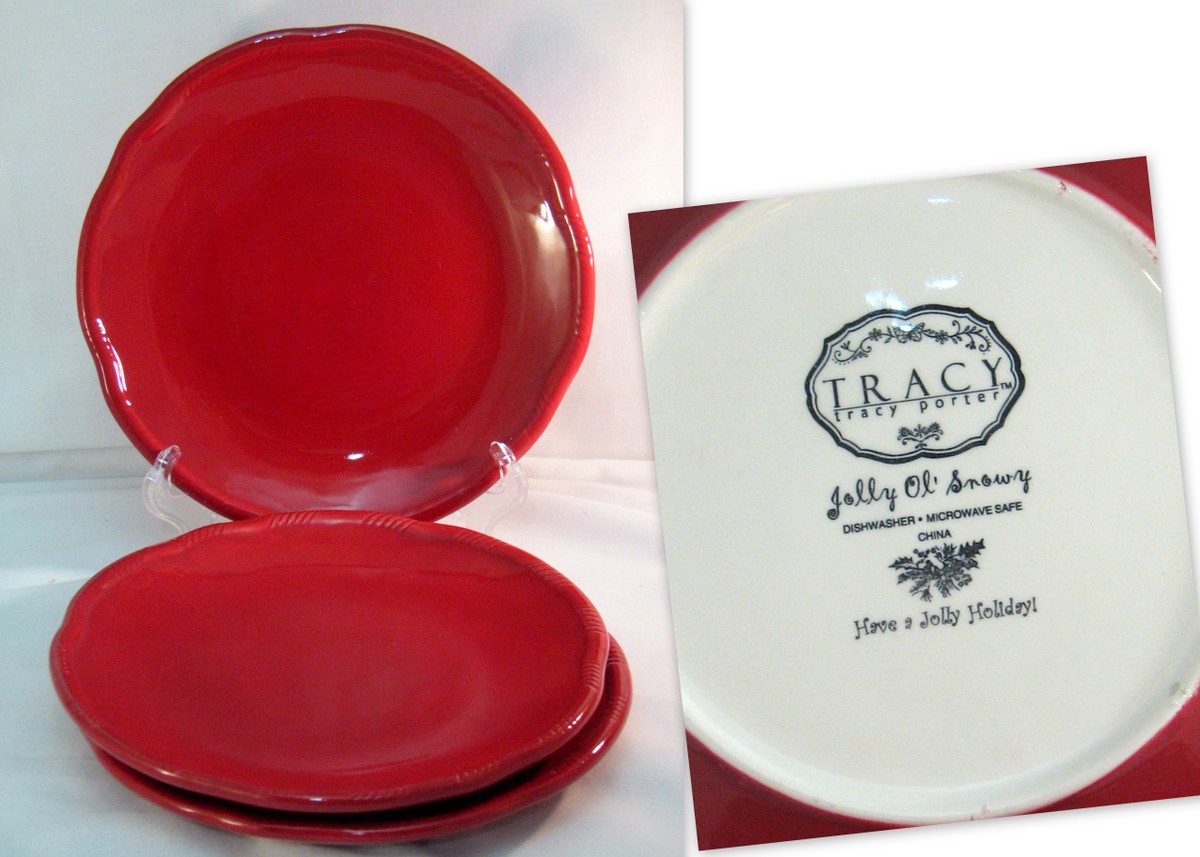 Casual Dinnerware or Fine China
An elegant dinner calls for different dishes than an informal buffet for a crowd.  Will you want bone china, porcelain, stoneware or another type of tableware to suit your needs?
Casual salad or desserts in the Jolly Ol' Snowy pattern by Tracy Porter make Christmas red a feature, for sure.
Most of what I find in secondary marketplaces are casual china or glassware pieces, sometimes in the original box. There are outlets for fine china, too, if that's what you're looking for.
In any case, check carefully and read the descriptions for condition notes. You will want your new dinnerware to be in good shape, without surprises in the form of chips, crazing and utensil marks.
Adding To or Something New
Are you looking for some extra place settings for your present dinnerware set, some complementary serving pieces, or do you want to start another china pattern?
One easy way to add something to your set is to look for salad or large dessert plates in a complementary pattern.
These pieces are often used after the main setting pieces are cleared away, when you and your guests move around for coffee and cake, pie or another treat. This is a good way to test drive something you've never tried before.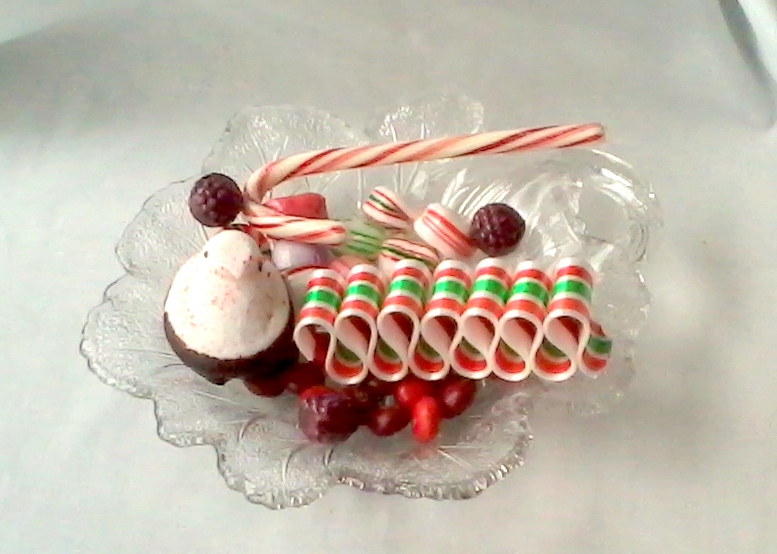 Another addition can be based on piece types, such as platters, tier servers, or small pieces like bread plates.
Vintage glassware like this small plate in the Pebble Leaf pattern by Indiana Glass makes a charming display for holiday candies.
It may take a while to collect enough for all your guests, but how sweet are the results, and you can use them to make your holiday table settings special for years to come.
Your menu can help you pick the piece types that would best fit, whether you need something to serve a roast turkey, deviled eggs, or dozens of cupcakes.
Your answers to these questions will make your planning go forward fast, and help you choose the best Christmas dinnerware to make all your holiday events shine!




by