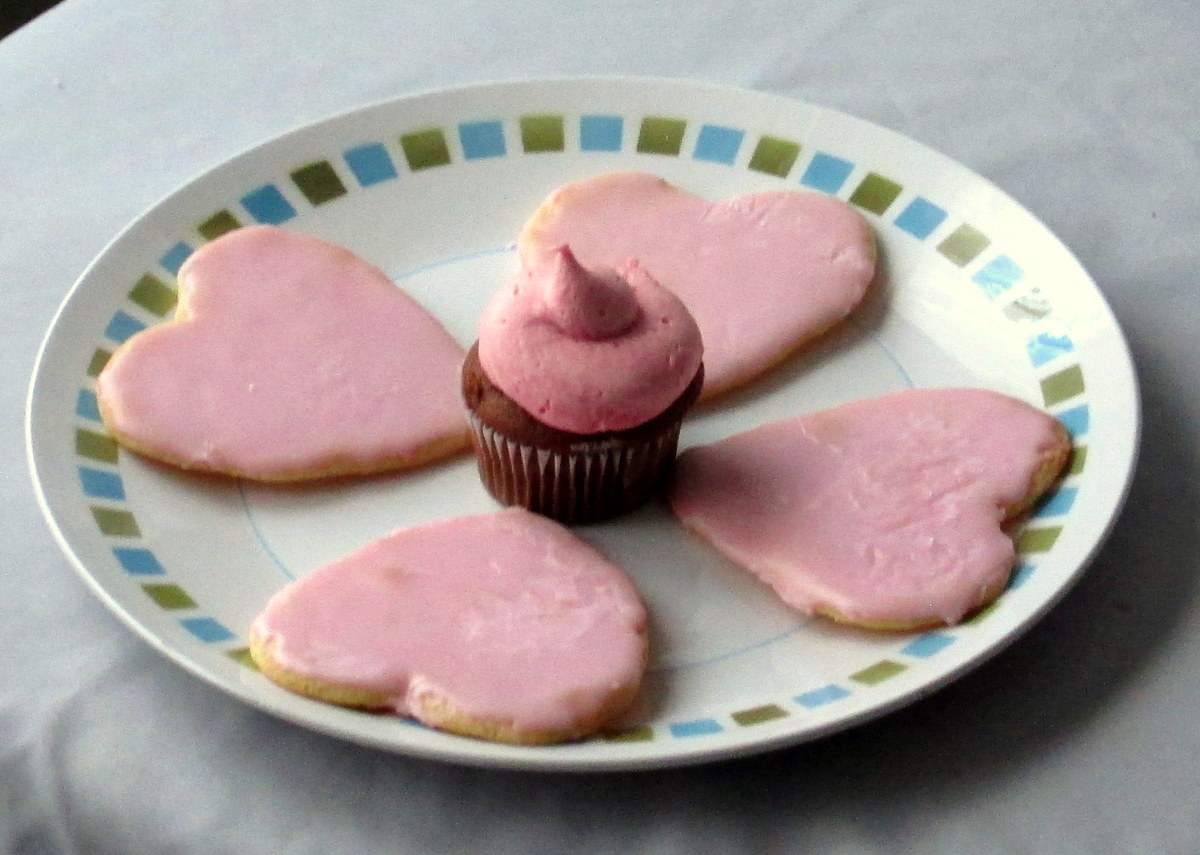 It's so much fun to use vintage dishes for display pieces to show off some special holiday treats.
I went straight to my collection to find a sleek, modern plate to show some pretty Valentine goodies. I love to use my vintage favorites, like these platters. They are beautiful, and really personalize a creative table setting.
I wanted to use this particular chop platter to go with the pink Valentine's Day cookies.
This Mikasa platter, in the vintage Tivoli pattern, is a simple, sleek style, and the china has a nice weight for its size. The blue and avocado green squares on this piece (and stripes on cups and other pieces) can work with many color palettes, especially for spring or summer table settings.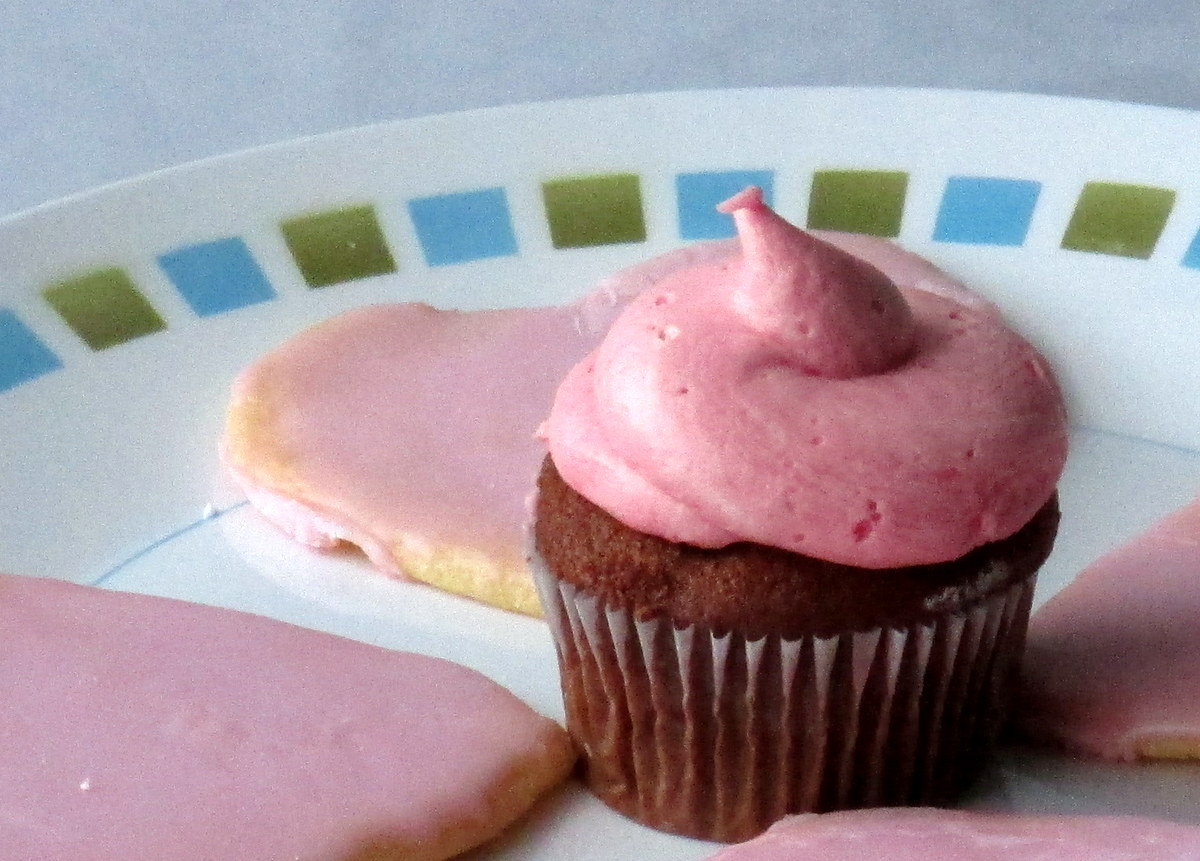 Mikasa made several patterns called Tivoli or Tivoli Gardens. This is the one from the Cerastone line.
Chop platters are round, 11 or 12-inch diameter, china plates, intended to serve piles of pork chops, among other foods.
Your vintage chop plate can work just fine for serving desserts. There are lots of reasons to use them to show off your cupcake creations, or make a charming display of brownies or cookies for a crowd (before they eat them all up).
Unlike cake plates, which are flat to use for a dessert that's intended to be sliced, chop plates often have rims. They work well for smaller desserts, or for items that might be juicy or saucy (the original purpose for this piece type).
Modern dinnerware sets don't always include chop platters. A new set of Mikasa, Noritake or Pfaltzgraff china may include traditional round dinner plates and salad plates, as well as square ones, and different shapes of individual bowls as well, with different serving pieces than vintage sets.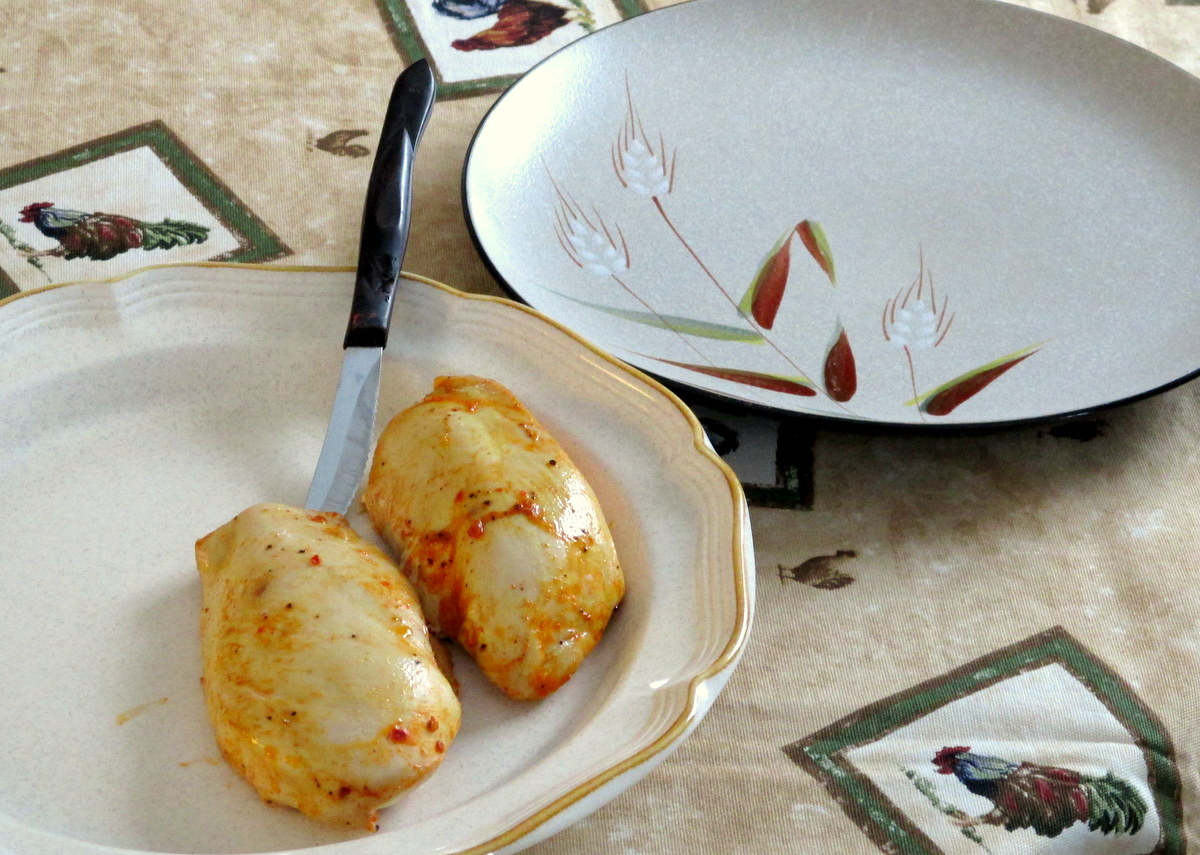 Sweet Plates for Savory Dishes
In this photo, there are two vintage chop plates. The near one is from the Garden Club line by Mikasa (vintage 1970s to 1980s). The warm color and traditional style of this pattern will complement many newer patterns in traditional shapes.
In the background, the Wild Rice pattern by Ucago (vintage 1960s to 1970s) has a raised motif and will coordinate with an eclectic table setting, especially those in palettes based on bold browns and earth tones.
The baked chicken breasts were glazed in a JD Bourbon sauce. The vintage steak knife was made by Cutco.
Are Chop Platters on Your List?
I like to use my vintage wares, and often find inexpensive chop platters at thrift stores and estate sales.  (Check the lower shelves, and the bottom items in the stack of plates.)
The platters shown were all inexpensive and in excellent condition. I guess their prior owners did not use them a lot, and when they did, no one cut their food on them.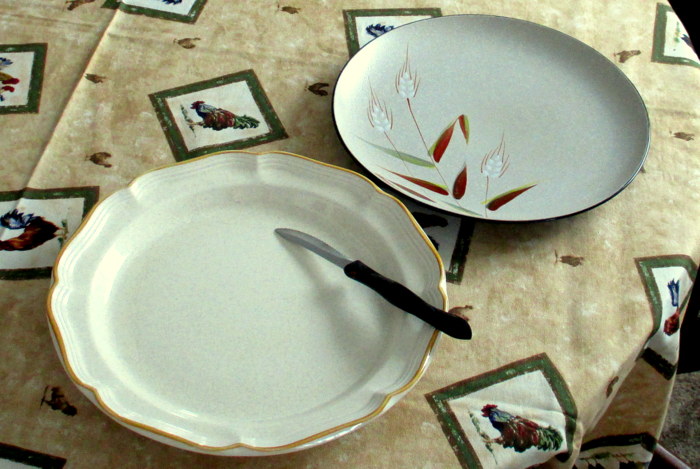 Vintage dinnerware comes in piece types that favor the foods people often served back in the day. Round china platters are just as good for a serving a pile of grilled or barbecued pork chops as they ever were. Steak and chicken for a crowd, too, come to the table just fine on a vintage chop platter.
The veggies can make an appearance, too. Corn on the cob will fit, because of the platters' large diameter. How about a tasty tomato and mozzarella salad, a pile of corn fritters, or a mound of potato skins for a crowd. Or, slices of watermelon, anyone?
Pretty and practical. Gotta love that!
Next time you're choosing your menu, consider all the vintage dinnerware that can help show and serve your food beautifully, in retro or traditional patterns. Platters like these are easy to find, in any style that suits your table setting, your menu and your entertaining style.




by