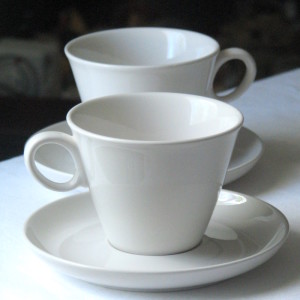 When choosing vintage dinnerware, it takes only one focal point for an idea to germinate. When I tried this using a real wedding from the Ruffled blog, it was a surprising element that provided my inspiration.
I've been exploring the beautiful weddings featured on Ruffled, which I started writing about yesterday, in my post about fall dinnerware colors.
Another of the real weddings particularly caught my eye, the Port Huron Handcrafted wedding.
First, it was in Michigan. Second, the story was posted last month, around the time of the annual Woodward Dream Cruise, a vintage car lover's dream.
And then, there were the photos of the car. My surprise element. The happy couple used a 1973 vintage Dodge sedan, taupe interior and exterior. Ah, that car takes me back to a different era!
This wedding -- is there a good choice for vintage dinnerware, if it were up to me? Looking at the colors and the style, what if?
What vintage dinnerware would I choose, if style were the only criteria, if quantity, time and money were no object?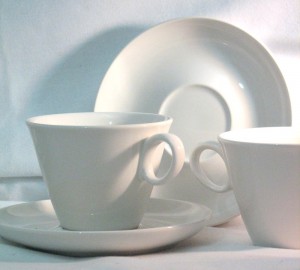 I settled on Cloud Nine by Franciscan, another retro pattern. This earthenware pattern is part of the Whitestone line, and dates from the 1960s. It's a sleek and simple style, plain white, with quietly stylish cups.
The coupe shape goes right along with the style of the Dodge. The white fits in with the neutral color palette for the wedding.
To my mind, this charming dinnerware complements the handmade and natural quality of the Port Huron wedding style.
Choosing vintage dinnerware for a vintage-inspired wedding is not so easy, after the fact. To make it part of any wedding, I recommend starting early, and make the selection part of the plan from the beginning. China like this can add a lot of charm, when it fits into the theme, style and color scheme of a wedding, or another special event.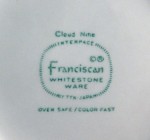 About the photo: Cups and saucers in the Cloud Nine pattern, Whitestone Ware line, by Franciscan, made in Japan.




by