My china gravy boats tend to drift to the back of my china cabinet, and I'm betting that yours do, too. Meat gravy, to serve over potatoes, has gone the way of the meat and potatoes meal, less common than in past decades.
Gravy boats are also called sauce boats or servers. The functionality of these serving pieces can be applied in other ways in your table setting, to serve the sauces that appear in menus today, with a little creativity.
Use your gravy boat to serve other foods
Salad dressings. If you have two or three choices, different complementary servers will make it easy to tell which is which (bleu cheese or ranch, for example). This works at the table, or on a buffet
Barbecue sauce. Casual china works well to make extra sauce on the side available to your guests
Savory sauces. Vegetarian gravies made with vegetable broth, for example. Flavorful mayonnaises, mustards, pestos, chutneys – anything that is the right consistence to be poured or ladled over another food, where the diners serve themselves
Dessert sauces. Hard sauce, made to go over steamed puddings, is just one example. Thick fruit sauces, chocolate, vanilla or brandy sauces
A small ladle in stainless or silver plate can be used with a sauce boat, even those that have spouts. And an extra salad or relish plate will act as an under plate to catch any drips, if the boat does have its own.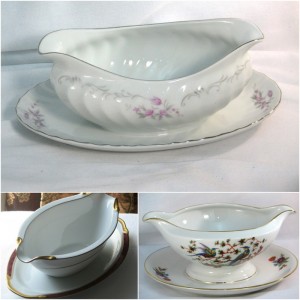 Fine china gravy boats
Gold Standard, made in Japan. White with a swirl shape to the body, tiny flowers, platinum rims
Royalty by Empress, also made in Japan. Dramatic maroon and gold detailed band, as well as wide gold trims
Thomas china, with fanciful bird motif, made in Bavaria, Germany. Old World charm, colorful motif on white with gold rims
Attached under plates give the guest something to use when picking up and pouring from these gravy boats, especially if the gravy or sauce is hot. These also lend themselves to using a small ladle.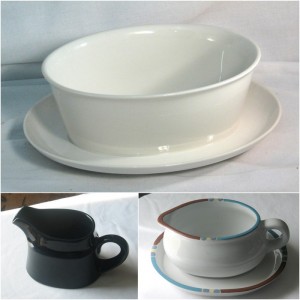 Casual china gravy boats
Whitestone Ware by Franciscan, made in Japan. Goes with Cloud Nine, Fan Tan and other patterns in the Whitestone Ware product line. Retro shape
Spinnaker by Noritake, from the Primastone line. Another retro dinnerware line. This one is navy blue stoneware, made in Japan
Mesa White Sand by Dansk, made in Portugal. Southwestern style, color bands on creamy white background. Gravy boat has a separate under plate
Your gravy boat can come out to take its place again on your dinner table, or for parties and buffets. A few extra ones, in a pattern and material that complements your dinnerware set, can help make serving your menu easier, for you and for your guests to enjoy.




by