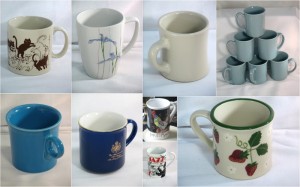 If you're a coffee drinker, can you ever have too many china coffee mugs? I'm thinking about the stoneware kind, though there are lots of other kinds to use, to enjoy your cup of Joe.
I like tea and coffee. It depends on the menu, and the situation. Yesterday was National Coffee Day, but who needs an excuse to get out favorite coffee mugs and have another cup!
A Gallery of Coffee Mugs
Photos left to right, first the top row, then the lower row.
Taylor and Ng cats mug, vintage 1970s. They made many different patterns, usually signed in glaze along the edge of the motif, near the handle. Their offerings some in the "orgy" group that are a bit naughty. Find them in the secondary marketplaces
Shadow Iris tall mug, stoneware, Corelle Coordinates line. Shadow Iris was first issued in the mid-1980s and eventually discontinued. But this popular pattern is one of those revived recently by Corelle and you'll find both new and older pieces in various marketplaces
Restaurant ware white china mug. Thick walls keep your coffee hot longer. A retro classic. There are new restaurant ware mugs, but the best ones are vintage, like this one, made in the USA
Stack of Corning stoneware mugs in dusty blue. There are vintage versions, and many new Corelle patterns include coordinating, solid color china mugs. As you're mixing and matching this dinnerware, take note of the handle shape as well as the color. There are D shape and ear shape handles
Fiesta by Homer Laughlin, mug in peacock blue. Fiesta comes in lots of colors, and you can mix and match to your hearts content
Gevalia brand coffee mugs. Starbucks and other brands have their own collection of mugs, too. The Gevalia ones come in blue, white, black and dark green at least. Metallic rims and decoration make these no-go for the microwave, but you drank your coffee before it got cold, yes
Poultrygeist tall mug, I've written about this bad boy before. I love the fanciful and sassy motif coffee mugs, like my spooky rooster mug
Jazz musician motif mug. There are so many mug designs. You can find anything you want if you look around, especially in thrift stores and estate sales
Strawberry mug by Hartstone. These are new, handcrafted in Ohio from American clay. This is just one of several patterns. And they are great for tea and hot chocolate, too
Vintage coffee mugs are often small by current standards, in the 10 to 12 ounce range. More recently made mugs are 12 ounces on up. I've even seen mugs that hold 20 ounces. Ceramic tankards are even larger. (They're meant to hold beverages other than coffee.)
China coffee mugs are an easy item to collect. Your collection can focus on a theme as simple as a color, like blue, a particular coffee brand, a manufacturer brand, or a certain motif, such as cats, dogs or pigs. Coffee mugs are both practical and collectible, made to use and enjoy.




by