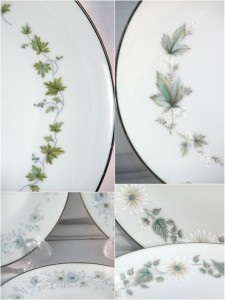 Many vintage Noritake china patterns lend themselves to a vintage wedding table setting.
It's no surprise. The company has been making beautiful china for more than 100 years. These dishes have classic design and quality craftsmanship.
One of these Noritake patterns is Sezanne  (upper right) which I included in yesterday's post about the dishes that went to the rehearsal dinner.
This pattern features leaves in tones of gray, blue and green, along with embossed white flowers and tiny red berries. Sezanne was made from the late 1960s into the 1970s.
Once you set your theme and color palette, you can search "vintage Noritake" in the secondary marketplaces and find lots of examples.
As with any such dinnerware, evaluate the pieces carefully for chips, cracks or crazing (where the glaze is cracked, but not the china substrate). Also, check for wear on the edges, and on the surface of the plates.
The dinnerware shown in the photo leans to the blue and green nature motif niche. I also stuck with the 1960s to 1970s era in these choices. This dinnerware is beautifully made and I sometimes think underappreciated.
Besides Sezanne, the dinnerware in the photo includes:
Lexington, which has green leaves and vines. Pattern discontinued about 1971. (top left)
Wellesley, which has white daisies and aqua leaves. Pattern discontinued about 1976. (lower right)
Inverness, which has dainty blue flowers and gray leaves. This pattern was made for 15 years and discontinued about 1981. (lower left)
These patterns all have platinum rims, a nice complement to vintage silver plate or sterling silver flatware. A simple, classic stainless pattern can also work well. (Flight or Reliance by Oneida comes to mind.)
All these patterns are made in Japan, and all are discontinued.
And…I didn't get to the patterns that have roses or pink flowers, or the ones with gold rims instead of platinum. Those will come later.
The colors and motifs can help with choosing the glassware, crystal and linens, referencing the original palette and theme. Colors in the same family and tonal range will add texture. Leaves and flowers in the woven or printed table linens add another dimension. Clear glassware will help keep the table setting light. Colored glass can also be used to add sparkle to the complete table setting.
These are just four examples of vintage Noritake china patterns that are  lovely examples of dinnerware that can be used to adorn a vintage wedding. A table setting made by mixing and matching vintage dinnerware is a great reason to use this charming china.




by