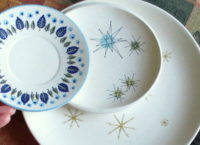 When I'm shopping for vintage dishes, I sometimes buy old magazines as well. Many home publications contain how-to articles that are just as "evergreen" as my favorite vintage dishes.
I can see why writers, photographers and food stylists choose to use vintage classics to show off the food in a recipe story, or illustrate the important points in articles about style.
Good design always shines!
These three example vintage dinnerware patterns all date from the 1950s and 1960s.
Paging through a copy of Taste of Home's Cooking for Two (Summer 2016) I saw a striking photo of a . . . → Read More: Vintage Dishes – Seen in a Magazine