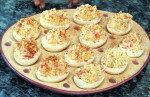 Who would have thought, a National Deviled Egg Day, devoted to one of the most popular appetizers ever to make it to a Midwest holiday feast?
We always had deviled eggs at home, at Thanksgiving, Christmas and Easter especially, and for other special family gatherings, too. Couldn't put them out too early, though, because they would start disappearing well before dinner time.
I never knew there weren't special plates made to serve them, because this dish was so popular in my world growing up.
When it comes to the best deviled egg plates, the more spaces the better. My mother . . . → Read More: Deviled Egg Plates | Serve a Classic Dish