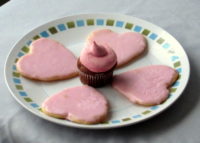 It's so much fun to use vintage dishes for display pieces to show off some special holiday treats.
I went straight to my collection to find a sleek, modern plate to show some pretty Valentine goodies. I love to use my vintage favorites, like these platters. They are beautiful, and really personalize a creative table setting.
I wanted to use this particular chop platter to go with the pink Valentine's Day cookies.
This Mikasa platter, in the vintage Tivoli pattern, is a simple, sleek style, and the china has a nice weight for its size. The blue and avocado . . . → Read More: Chop Platters Round and Sweet