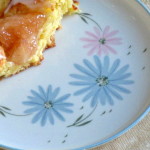 I just cannot resist those trays of Danish sweet rolls at Costco. And what better way to serve them in sweet, small bites than some vintage dessert plates?
In this case, the plates are in the Maytime pattern by Franciscan.
This is an uncommon pattern, from the 1960s, during the period when Gladding McBean produced Franciscan in the USA. Retro style and pretty colors. What's not to like?
Why Pastels?
Just some of the reasons I can think of, why pastels remain popular: Light color palette has an open, springy feel Sweet colors complement and soften details of other . . . → Read More: Vintage China in Pastels – Bring Spring