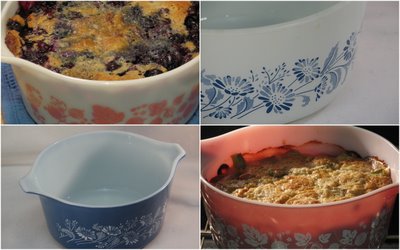 May in Michigan can mean cold weather, and we are getting that now, in conjunction with a weekend. Either one is a good reason to get out the ovenware and bake a casserole, cobbler or crisp.
Some preparation, an hour or so in the oven while you do other things, and dinner is ready!
Corning ware, Pyrex and stoneware all make great baking dishes. You many have your favorites for certain purposes. We like the Pink Gooseberry pattern by Corning, round with straight sides. Our set of three came from a "granny sale" many years ago.
Our set has one each in three sizes: 2.5 quarts, 1.5 quarts and 1 quart. Similar sets are available in different patterns and shapes. There are lids for these, though they are often harder to find in the secondary marketplace.
Corning also made mixing bowls and refrigerator dishes in this pattern.
Casserole for Dinner
It's easy to use this ovenware to bake a savory casserole with meat and vegetables and cheese, like our homey Tuna Casserole that's a family tradition. Many casserole recipes use pasta to stretch the other ingredients. They are great to use up leftovers. Any other meats, cheeses or vegetables that you think will taste good with the other components probably will!
Cobbler for Dessert
In-season fruit from the farmer's market makes a great cobbler or crisp. Rhubarb cobbler is a special favorite, because it's tangy, and available at the beginning of the season, heralding more to come. Peach cobbler is also a favorite. Either one goes very well with an added scoop of vanilla ice cream, too.
The ovenware at our house is never far away from the oven, handy for the next meal or dessert, especially on a cool evening. Just get out your favorite bowls for serving at the table, or in front of the fireplace.
About the ovenware: Casserole dishes in the Pink Gooseberry and Colonial Mist patterns by Corning.




by