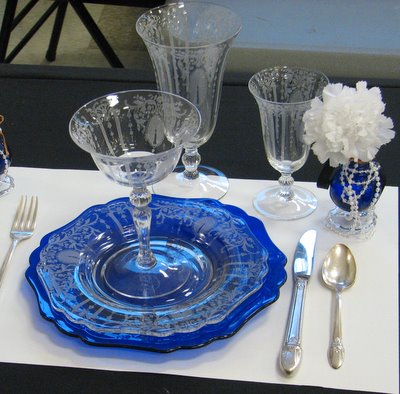 We complete our four-part series on Depression glass used in table settings, and the table setting contest winners from the recent Great Lakes Depression Glass Club show.
Fourth prize went to Dorothy Alden, for her a table setting using pieces in the Candlelight pattern and 3400 Blank, by Cambridge. Her table setting was also displayed as part of the education exhibit.
The Candlelight pattern by Cambridge Glass features a cameo-like candle motif, along with detailed floral sprays, in clear glass. The 3400 blank has gently scalloped edges. In this table setting, the plain charger plate is in cobalt blue glass.
A "blank" is a shape of undecorated glass. Many pieces of the same shape could be produced in clear glass, or a color, then etched to add the decoration and create different patterns.
Cambridge produced Candlelight from the 1930s to the 1950s. The factory closed in 1957.
Cambridge was located in Cambridge, Ohio, current home of Mosser Glass, which carries on the American tradition of handcrafted glass.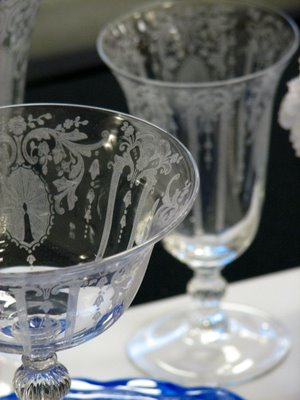 To find out more about Depression glass, check out the Great Lakes Depression Glass Club, or Warman's Depression Glass by Ellen Schroy. This beautiful glass is easy to appreciate and can help you express your creative table setting ideas.




by