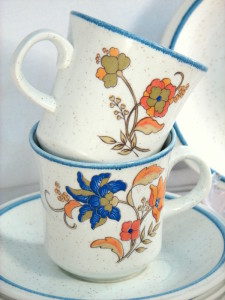 In one of the prior economic downturns, in the mid-1970s, bold colorful dinnerware was also in fashion.
A friend gave me some old home decorating magazines from the 1960s and 1970s, days I remember well.
It was fascinating going through them, looking at the designer rooms, tableware displays, and the advertising from those decades.
I couldn't help notice the similarities to some of the most modern dinnerware from the present, such as the Missoni for Target dinnerware that I wrote about recently.
Everything Old Is New Again
One vintage dinnerware pattern from the 1970s is Bokhara by Mikasa. This china features Asian-inspired elements in bold blue and orange, with details in pink and brown, all on a white-oatmeal background. This china is from Mikasa's Cordon Bleu product line.
This pattern has features that I saw in the vintage 1970s magazines, such as this room of boldly-upholstered furniture, drawn from a 1976 issue of Home Decorating:
Strong colors. Saturated shades of any color makes it stand out
Exotic motifs. Paisleys and fanciful forms drawn from nature evoke far-off places
Simple shapes. Classic lines let the colors and patterns take center stage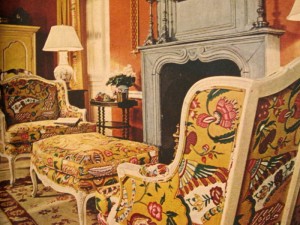 Good design is constantly reborn, in new forms inspired by almost anything. This is true for fashion, dinnerware sets and home decorating.
Any of these qualities can be the basis for a table setting, using new, vintage or a mix of china, glassware and tableware accessories.
Even when funds are tight, color can be used to uplift a home, starting with the dishes and table settings.
The name of the Mikasa china pattern brings up some possible sources for its design inspiration.
Bokhara is an area in Uzbekistan, Central Asia, along the old Silk Road. This is a place where cultures have met and cross-pollinated for hundreds of years. Cordon Bleu is an exotic dish made with chicken, pork and cheese.
In any case, the best of mix and match.
Bold colorful dinnerware can be the start or the finish to your party tablescape. Vintage china in retro style brings lively energy in your home, and inspiration to make any occasion special, a place to relax with family and friends in the midst of uncertain times.




by