What vintage dishes would work well for a student going off to school?
I was poking around a thrift store recently, in company of some folks who were looking to outfit a grandson for his first college apartment.
They were shopping for cookware. Someone else had the dinnerware checklist.
A lot of people are looking to go second hand when it comes to items for their students. The same might be said for a first apartment for a graduate as well.
Attributes For Back-to-School Dinnerware
Practical. The dishes should be the right piece types to go with the foods they like best. Soup mugs can go for soup, stew, chili and similar meals. Dinner plates work with spaghetti, burgers or a big salad.
Easy care. Dinnerware that can hold up to the dishwasher, or washing by those attempting to multi-task, will make cleaning up as easy as possible. With classwork and tests on their minds, they should have to be concerned about what will and won't go in the dishwasher, or delicate pieces that require gentle handling.
Durable. A small number of pieces used over and over, these dishes should hold up to frequent use, stacking and unforeseen hazards to chips, cracks or crazing. Dinnerware made to endure rough handling means that they probably won't have to replace dishes, at least for the current school term.
What Would Be My Picks?
My first thought, Corelle. This has been the "first home" dinnerware choice for more than 40 years, including mine. I had Corelle's Meadow pattern, back in the day.
There are lots of piece types and patterns, either in the new or secondary marketplaces. You might even find pieces in the pattern you keep in your cupboards at home, to remind them.
Next, restaurant ware. These dishes are made for commercial use, and they work very well in a dorm or home. They are heavier than Corelle, but they made up for it in the cozy comfort look and feel. I often find Buffalo, Hall and Homer Laughlin in my travels.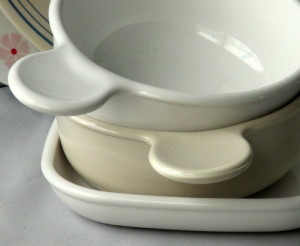 Another option, Grab It. These pieces were made as bowls and plates, with big tab handles. Most of them are white Corning ware, but some bowls were made in Pyrex in amber and cranberry.
These pieces are great for a big cup of soup with crackers, or a gooey grilled cheese sandwich – lots of snacks and simple meals. When it comes to vintage ware, I find the bowls more often than the plates, but both piece types are out there (as well as new bowls in white).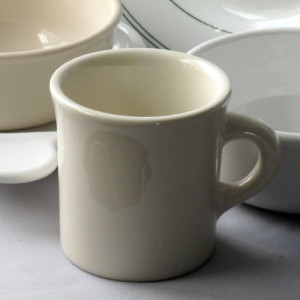 Any of these wares can go in the microwave and the dishwasher. Their classic shapes, practicality and durability make them likely to last long enough to follow your student through the years of school, and even further.
Shown in the photos: Corelle dinner plates in the Spring Pink (this one is new, not vintage) and Country Violets patterns. Green band restaurant ware plate by Buffalo. Classic white coffee mug by Homer Laughlin. Stack of Grab It, bowls and plate by Corningware. (Mine are vintage.)
Something Special, Too
One last tip…especially for the more artistic or design-conscious students you might have: Consider a wonderful piece of Mid-Century Modern china (such as Lazy Daisy or Vision by Ben Seibel).
Or, a funky retro '70s glassware (perhaps a chip and dip set in Soreno by Anchor Hocking, Accent or Impromptu by Libbey) or stoneware (like these pieces by Midwinter).
Any other stylish piece that they can use and enjoy for its style alone. Round chop platters are common thrift store orphans, or two-part casserole dishes -- that can be used and enjoyed for their style alone, when you find the right ones for your creative-minded student.
Dinnerware can always be practical and fun, no matter who it's for or how they'll use it.




by