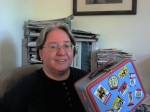 What an excuse to look at dishes, buy dishes, and then pass them on to good homes!
Writing about dishes and dinnerware, singles or sets. Glassware, flatware and recipes, too. Because these are all elements of a table setting. Or use and enjoy them for other reasons: because you like it, it's just the right size, or it was grandma's china and it reminds you of her apple pie.
Why cooking? You always want something good to eat, as a reason to get out the dishes and play with the table settings.
If space and funds were unlimited, I'd have sets and sets of dishes – real sets, service for 12 – of every maker and pattern I choose. My walls would be lined with glass display cases, sparkling with china plates and cups, radiant under halogen spotlights.
All my rooms would look like the China Room in the White House.