I have a trifle dish, but where? So I decided to make this fruity dessert in a vintage salad bowl.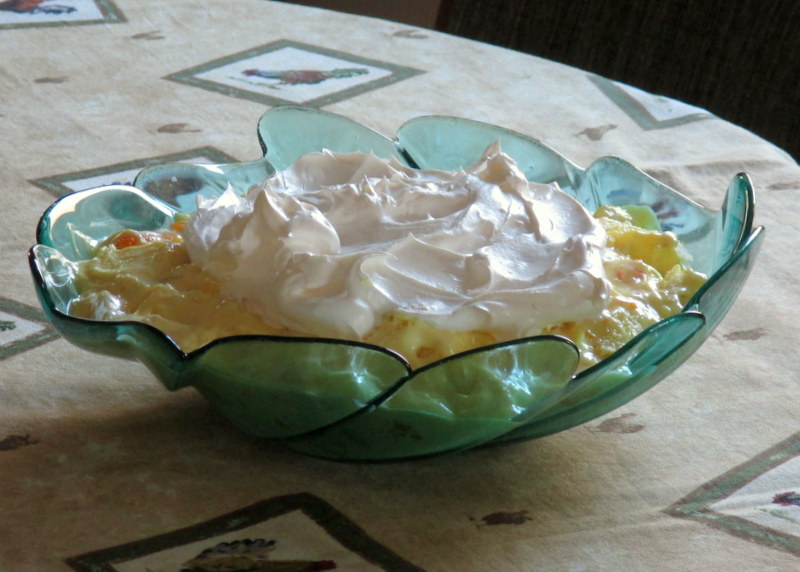 I think the bowl shows off the cool dessert, and is something of a conversation piece for those like me who are interested in vintage glassware.
This bowl has a swirl edge and panels, and overall is square shaped. It's not marked, and so far has eluded identification of a pattern and maker.
Based on the color, I'll place it in the 1970s. The shape could put it into a later decade. In any case, old enough to be vintage.
The bowl caught my eye years ago, when I was out shopping in a thrift store, and I've been looking for opportunities to use it. It has a good 2.5 quart capacity, so it can hold a dish that serves a crowd.
The trifle is made from a 1990s recipe called Orange Pineapple Trifle. It uses instant pudding mix, milk, sour cream, angel food cake, pineapple and some juice, and mandarin oranges.
Layers of fruit, cake and pudding show off better in a regular trifle bowl, it's true. Tall and deep is ideal. Shorter and wider, not to much.
In my case, I was happy enough to make the dessert in two layers, vs. three, and let the glass bowl take center stage.
We did enjoy eating the trifle. None of it went to waste!
It was sweet, but not too much, and hit the spot as winter fades into spring. And the bowl will be used again for salads and other desserts. (A cobb salad comes to mind.) The turquoise blue color goes well with many of my dinnerware and glassware patterns.
Who says a trifle has to always be served in a trifle bowl?
I love to use my vintage dishes, and there are almost no limits to the different possible ways to repurpose them.




by