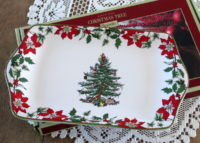 Vintage shopping for Christmas in July? No problem!
I had a great time visiting just three of my favorite thrift stores to see what I could find to add to my collection of holiday dinnerware. Why should new goods shoppers have Christmas in July all to themselves?
I have noticed that some thrift stores create a holiday section later in the year. Some have a mixed section all the time with Christmas, Halloween, Easter and whatever they have. Others have a dedicated Christmas goods section all year round.
I can always find Christmas goods when I look for them. . . . → Read More: I Shop Vintage Christmas in July