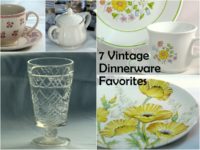 How to make a list of only a few special patterns? This is a challenge.
I decided to review prior posts that have gotten the most comments so far, over the 8+ years that I've been writing on Diary of a Dishie.
I enjoyed this review of favorite wares. It was like stopping by a friend's house for a chat to catch up on things!
You might like these, too. Just pour a cup of coffee or tea, and read on as you wish.
Readers had a lot to say about long-time favorites like these:
Federalist by Sears. This . . . → Read More: 7 Vintage Dinnerware Favorites