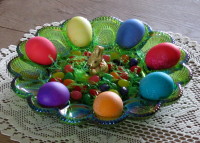 Iridescent carnival glass is made by applying a finish while the pressed glass is still hot, then firing it one more time to bring out a rainbow of colors.
I got out my vintage Indiana Glass deviled egg plate, in the Hobnail pattern in green. It is a cute piece, and inspirational for an Easter table display.
This dish has the colorful, carnival finish, though this piece is a 70s version of the older glassware given away at carnivals, where the name stuck (even if most of the glass was bought by admirers to brighten their homes inexpensively).
. . . → Read More: Happy Easter Carnival Color