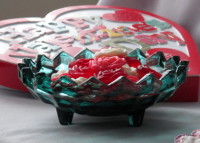 When I saw this teal green glass bon bon dish in the Whitehall pattern by Colony, I had to have it.
It was sitting on a glass shelf in a secondhand shop window, highlighted by the afternoon light coming through. I had already succumbed to weakness and bought the heart candy box for the BOX.
I was charmed by the colors.
The pattern of this glass dish is sometimes called American Whitehall due to its similarity to the American pattern by Fostoria. This rich teal color screams the retro 70s era to me, so I'm sure that Colony is . . . → Read More: Colorful Valentine American Whitehall