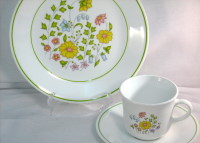 I'm reaching for my Meadow pattern by Corelle most often these days, when I go to my dish cabinet and pull out a vintage dish to use.
It's a pretty spring pattern with pastel colors and bright green details. It was one of the early Corelle patterns in the 1970s, and it was my first dinnerware when I lived on my own back in the day.
Old meets new over and over when I treat myself to a snack using this dinnerware. Another example, when I used a Meadow plate to serve myself a saucy McRib.
These days, I . . . → Read More: Vintage Corelle Dinnerware Old Friend