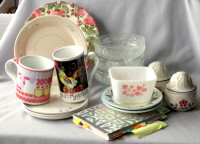 My permanent shopping list makes shopping for vintage dishes easy.
Shopping for vintage at the holiday season? Get organized to better enjoy the thrill of the hunt!
I have favorite vintage dishes and glass items I'm always searching for. And I keep a small notebook that's my "permanent shopping list" to keep track of them.
The notebook helps me as a place to record what I have, and the particular piece types and patterns I want to collect.
My list is organized by pattern, but I can also see having it by piece type, depending on how many patterns . . . → Read More: Shop Vintage Dinnerware All Year Round