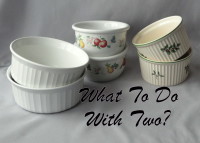 I like to use my vintage china. One challenge: setting a table for a group, when I only have a few of the piece types I want to use to serve the foods I've cooked.
What can you do, when you have only two?
Secondary marketplaces are spotty in their detailed offerings. Yes, there's lots of vintage dinnerware and glassware out there. No, the pattern you're looking for can be tough to find.
If you have (or want) only two of a kind, there are ways you can use them:
Dinner for two. Set a romantic, charming table when . . . → Read More: Vintage Dishes – Just Two – What To Do?