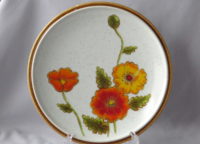 I've been collecting Mikasa stoneware from the 1970s. I love the designs. Only thing is, I don't usually find more than a few pieces at a time.
I like to use my dinnerware. Here's another excuse to get more creative, and imagine a table setting using this beautiful dinnerware in different patterns.
While I use my single pieces for special snacks, like this plate of snickerdoodles and milk.
Fortunately, Mikasa made this process easier, by creating product lines like Natural Beauty, designed for mix and match.
This group has a lot of different patterns within it, based around . . . → Read More: Milk Cookies Mikasa