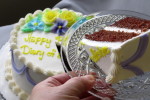 Time to wish my vintage china blog another happy birthday!
For year No. 7, I decided to go with some vintage clear glass, a theme that's a little more Big Girl than some of the prior, younger years. Just like you might have something new when your daughter reaches the seventh birthday milestone.
I've got a soft spot for glassware, especially the beautiful vintage pieces you can find in any thrift store or estate sale.
Glass is tough, because so much of it is not marked. I cannot tell you (yet) the names of the patterns for the pieces . . . → Read More: Happy 7th Birthday – Diary of a Dishie