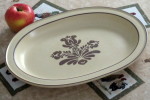 Old friends come in the form of vintage dinnerware, as well as people. They are the china and dishes that you remember from childhood, from grandma's house, or those pieces and patterns that connect to happy memories from days gone by.
Pfaltzgraff makes a number of patterns that have been made for more than 40 years, including the Village pattern platter in the photo.
This warm custard yellow china platter, with a brown verge and folk art-inspired motif, is just one of my "finds" from recent thrift store shopping.
I like the inviting colors, which work well with a . . . → Read More: Vintage Pfaltzgraff Dinnerware New Old Friends