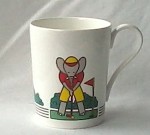 Yard sale signs are popping up faster than dandelions. Are you ready to start shopping for those vintage dishes that you've been looking for?
I've made lists before, though it may seem unnecessary. This is not the grocery store, where you can expect certain inventory to be in stock. Why write a list when you're heading off into the unknown to go shopping?
You never know. I think having a list keeps your mind focused on what you want.
You can be surprised by how the things you want seem to be easier to find when you make a shopping . . . → Read More: Vintage Dishes | Time for Shopping