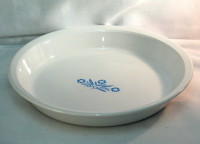 Pie lovers are very loyal to their favorite flavors. Pie serving plates are made specifically to enjoy a large slice, especially served with ice cream. Some of them are flat like regular plates, generally in the 8 to 9 inch diameter size.
I've written about a favorite pie plate made by Syracuse a while back.
By pie serving plates, I mean the kind that have sides, similar to the kind of dish that a pie is baked in, but made specifically for serving.
These are made for serving up a generous piece of pie, perhaps warming it in the . . . → Read More: Pie Serving Plates | Enjoy a Big Slice