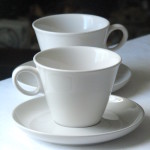 When choosing vintage dinnerware, it takes only one focal point for an idea to germinate. When I tried this using a real wedding from the Ruffled blog, it was a surprising element that provided my inspiration.
I've been exploring the beautiful weddings featured on Ruffled, which I started writing about yesterday, in my post about fall dinnerware colors.
Another of the real weddings particularly caught my eye, the Port Huron Handcrafted wedding.
First, it was in Michigan. Second, the story was posted last month, around the time of the annual Woodward Dream Cruise, a vintage car lover's dream.
And then, . . . → Read More: Choosing Vintage Dinnerware | Cloud Nine