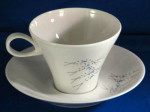 Ben Seibel, that is.
Small towns in the American Midwest might not be the first place you'd think of to find modern design classics. But Ben Seibel Design dinnerware has been around for more than 50 years, and you never know…
On the dish trail last week, we found a bit of Ben in one of those unexpected places. It had "good dirt" on it, which means to me it was stored in newspapers, out of harm's way, in a garage or attic for many years.
Iroquois (of Syracuse, New York) produced some Ben Seibel designs in the 1950s, like . . . → Read More: Ben Around Every Corner